The International Socialists and the Russian Revolution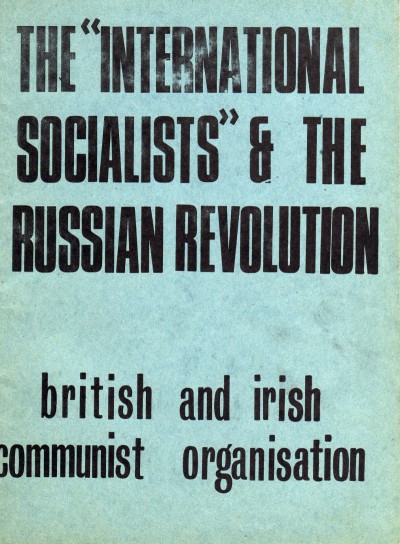 Please note:  The Irish Left Archive is provided as a non-commercial historical resource, open to all, and has reproduced this document as an accessible digital reference. Copyright remains with its original authors. If used on other sites, we would appreciate a link back and reference to The Irish Left Archive, in addition to the original creators. For re-publication, commercial, or other uses, please contact the original owners. If documents provided to The Irish Left Archive have been created for or added to other online archives, please inform us so sources can be credited.
Commentary From The Cedar Lounge Revolution
12th January 2009
I'm very grateful to Ken MacLeod  for scanning (all 28 pages!) the following for the Left Archive. The document provides an analysis dating from 1975 by BICO of the International Socialists. As Ken notes:
In the 1970s and 1980s the back room of Collet's in Gray's Inn Road, London sold literature from any and every leftist group. I probably came across this pamphlet in 1977. I opened it out of idle curiosity and was hooked. On the train back to Hayes I read it from cover to cover with shocked fascination. Re-reading it thirty-odd years later, the shock has faded but the fascination remains. I think it's still worth reading. This pamphlet was, going by the inimitable style, written by Brendan Clifford. The B&ICO is usually identified with the Two Nations theory, and their articles and pamphlets on Communist history and on the problems facing the British Labour movement in the 1970s have been somewhat overlooked. They were always interesting to read, even if you disagreed with them. They sold very well from that back room in Collet's.
More from British and Irish Communist Organisation
British and Irish Communist Organisation in the archive
---