Socialists Against Nationalism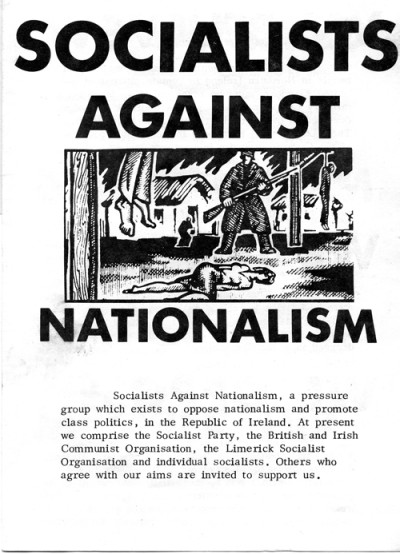 Please note:  The Irish Left Archive is provided as a non-commercial historical resource, open to all, and has reproduced this document as an accessible digital reference. Copyright remains with its original authors. If used on other sites, we would appreciate a link back and reference to The Irish Left Archive, in addition to the original creators. For re-publication, commercial, or other uses, please contact the original owners. If documents provided to The Irish Left Archive have been created for or added to other online archives, please inform us so sources can be credited.
Commentary From The Cedar Lounge Revolution
14th July 2008
All the greats - eh? A short document this week only four pages long. Socialists Against Nationalism, a 'campaign' group established in the late 1970s/early 1980s by the Socialist Party of Ireland (not, I hasten to add the current SP), the British and Irish Communist Organisation, the Limerick Socialist Organisation and 'individual socialists'. As far as can be determined this was the precursor of the Democratic Socialist Party, led by Jim Kemmy, which later merged with the Labour Party.
As a campaign how long it lasted and how successful it was is unclear. Although as regards the latter point it is worth reflecting on how many a left (or later liberal or right-wing) Irish political career clearly drew a degree of inspiration from the sort of analysis put forward here, that the only way to working class unity was by eschewing the 'call for a 32 county Socialist Republic [which] is nothing more than the old nationalism newly dressed in a socialist guise'. Actually that in itself is a remarkable statement from an avowedly left-wing body given the longevity of the socialist Republican approach in Irish politics during the 20th century.
But then again, considering issues of success or failure, some the central 'demands' in the leaflet have been fulfilled - look at the list on page 3- although their avowed aim of extirpating 'nationalism' has not. But then consider again the image on page 1 which makes a clear visual linkage between the most extreme form of 'nationalism' and Irish nationalism. Hard in that context to take entirely seriously their idea that they wanted to 'organise public debates with socialists and others who still hold the traditional nationalist viewpoint', or indeed that 'traditional nationalism' equated with what appears to be a pogrom. And consider again the viewpoints expressed in the recent past on various historical issues which chime with that sort of viewpoint.
I can find reference to them in Seanad debate here  (John A. Murphy giving an interesting analysis) and here .
Any further information on this campaign would be of considerable interest, as would any material from the DSP.
More from Socialists Against Nationalism
Socialists Against Nationalism in the archive
---