H-Block and Sectarian Civil War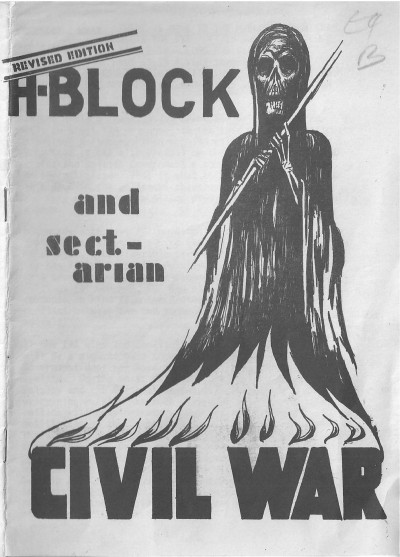 Please note:  The Irish Left Archive is provided as a non-commercial historical resource, open to all, and has reproduced this document as an accessible digital reference. Copyright remains with its original authors. If used on other sites, we would appreciate a link back and reference to The Irish Left Archive, in addition to the original creators. For re-publication, commercial, or other uses, please contact the original owners. If documents provided to The Irish Left Archive have been created for or added to other online archives, please inform us so sources can be credited.
Commentary From The Cedar Lounge Revolution
31st May 2021
This is the third document to be added to the Archive from Socialists Against Nationalism and many thanks to Alan Kinsella of Irish Election Literature  for sharing it with the ILA.
As noted previously:
Socialists Against Nationalism was a campaign established by the British & Irish Communist Organisation, the Limerick Socialists Organisation and the Socialist Party of Ireland in the late 1970s against 'nationalism'.
This is the second revised edition, appearing in July 1981, after the first edition released the previous month. The back cover of the document, a short twelve pages long, states:
The H-Block Demands have variously been presented by southern politicians as questions of humanitarianism or of prison reform.

They are neither.

This pamphlet shows that the H-Block demands and the campaign built around them are an integral part of IRA strategy leading to full-scale war with the Protestant population of the North in which they hope the South will become embroiled.

The pamphlet urges rejection of the wooly-minded 'humanitarian interpretation of the issue and resistance to a campaign which is raising tensions to a dangerous new level.
The document is structured in sections; H-Block: What it's All About, British Withdrawal and the 'First National Aim', 'Southern Army Invasion?, H-Block: the Southern Response, and so on.
A box on the last printed page contains the following:
Socialists Against Nationalism

Do not consider the present war in Northern Ireland to be a war of national liberation

Do not believe the territorial unity of Ireland to be an essential prerequisite of the development of socialist politics

Publish a monthly bulletin – Labour Won't Wait
More from Socialists Against Nationalism
Socialists Against Nationalism in the archive
---