Prisoners of Partition - H-Block/Armagh
A Peoples Democracy Pamphlet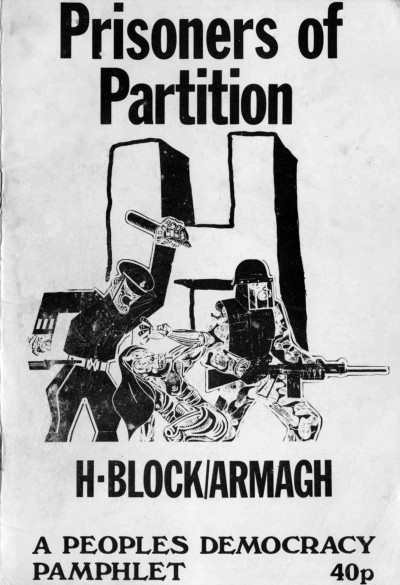 Please note:  The Irish Left Archive is provided as a non-commercial historical resource, open to all, and has reproduced this document as an accessible digital reference. Copyright remains with its original authors. If used on other sites, we would appreciate a link back and reference to The Irish Left Archive, in addition to the original creators. For re-publication, commercial, or other uses, please contact the original owners. If documents provided to The Irish Left Archive have been created for or added to other online archives, please inform us so sources can be credited.
Commentary From The Cedar Lounge Revolution
15th November 2010
This document, donated by Jim Monaghan for which many thanks, is undated but from the text written before the first death of an hunger striker. It provides a useful contrast with that from last week. Produced by Peoples Democracy, this considers the genesis of the hunger strikes and provides a useful analysis of the political circumstances within which they developed. It is positioned in an approach which argues for mass mobilisation rather than armed struggle. And it notes that:
The Stormont junta was overthrown by a mass movement of the Irish people, North and South. It reached a high point in the period after the Bloody Sunday massacre in Derry in January 1972 when a combination of militant street protests, industrial action and mass self-defence of the Catholic ghettos of the North forced the British Government to 'suspend' Stormont'.
Indeed it explicitly argues that there was a decline in politicisation in general terms in the post 1973 period.
The military campaign of the IRA was going from one disaster to another and alienating Catholic support. The confident declarations that British withdrawal and victory were coming began to look very hollow.
And it argues that the Peace People and the support for them was evident of that depoliticisation. And it has harsh words about the 'Provos obstructions to the [European election] campaign [of 1979]'. There are some interesting thoughts about the trajectory of the Civil Rights Movement, and it is probably not incorrect to regard the PD approach of being one that would see the opportunities implicit in a broader repoliticisation.
There is a curious, albeit not entirely accurate, prescience to the point that 'a defeat for the hunger strikers would not only be disastrous for the prisoners themselves; it would be a massive setback for the struggle of the Irish people for national unity. Conversely, a victory for the prisoners would be the single biggest gain for the anti-imperialist movement since the overthrow of the sectarian Stormont junta in March 1972.'
In a way what is striking is how it attempts to grasp a bigger picture of political activism against partition which being somewhat critical of armed conflict. In all this PD attempts to place itself as a key component of a mass mobilisation that would ensue on foot of the hunger strikes.
More from People's Democracy
People's Democracy in the archive
---