The Republican Movement and Socialism, 1950-70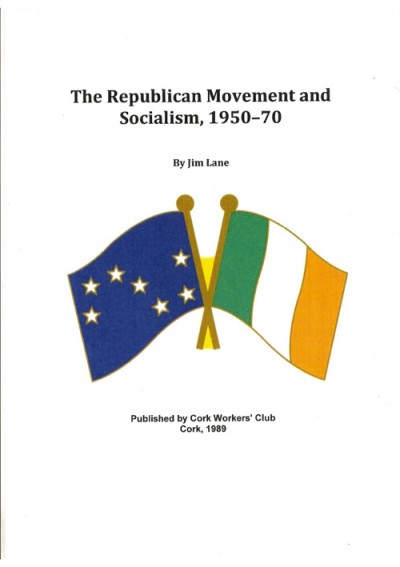 Please note:  The Irish Left Archive is provided as a non-commercial historical resource, open to all, and has reproduced this document as an accessible digital reference. Copyright remains with its original authors. If used on other sites, we would appreciate a link back and reference to The Irish Left Archive, in addition to the original creators. For re-publication, commercial, or other uses, please contact the original owners. If documents provided to The Irish Left Archive have been created for or added to other online archives, please inform us so sources can be credited.
Commentary From The Cedar Lounge Revolution
27th September 2010
Next week we will have a most interesting document from the British Labour Party Young Socialists. But this week we return to Jim Lane who as noted here  and here  has been involved in Socialist and Republican politics from the 1950s.
It's important as a preface to acknowledge both the work Jim Lane has put into writing this and making it available for publication and the work Conor McCabe has put into compiling it for release - and indeed the broader research he has been conducting the fruits of which are evident in the Open History and on both the Irish Left Review and the Irish History. This and other documents from Jim Lane will provide a key element of the Archive over the next six months as they are posted up.
This document by Jim Lane provides an analysis of The Republican Movement and Socialism, 1950-70 and was originally published as a supplement to the Starry Plough (organ of the Irish Republican Socialist Party) in December 1987. This version was a revised and updated piece from 1989 (and there is some prescience in the analysis that the then WP had tilted to reformism and was in the process of becoming a second Labour Party).
The text itself provides a fascinating critique of the narrative that the Republican Movement was shifting towards socialism during the early 1960s and argues that conservative strands remained pre-eminent within it throughout that period and afterwards. There's certainly some telling quotations such as one from a front page article in the United Irishman from 1965 which berated the introduction of English as part of the Mass.
A very useful addition to the Archive and once again many thanks to Jim and Conor.
More from Cork Workers' Club
Cork Workers' Club in the archive
---