On the IRA: Belfast Brigade Area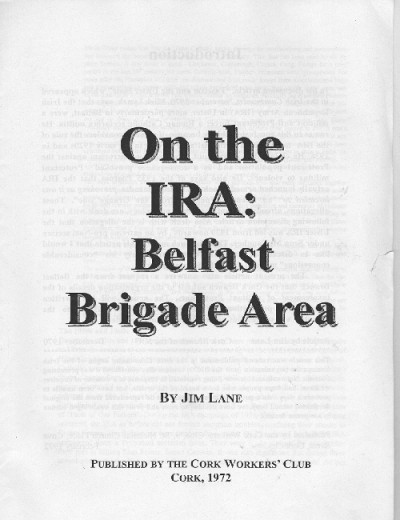 Please note:  The Irish Left Archive is provided as a non-commercial historical resource, open to all, and has reproduced this document as an accessible digital reference. Copyright remains with its original authors. If used on other sites, we would appreciate a link back and reference to The Irish Left Archive, in addition to the original creators. For re-publication, commercial, or other uses, please contact the original owners. If documents provided to The Irish Left Archive have been created for or added to other online archives, please inform us so sources can be credited.
Commentary From The Cedar Lounge Revolution
7th April 2008
Here's an interesting one. From that intriguing split from British and Irish Communist Organisation, the Cork Workers' Club, we have "On the IRA Belfast Brigade Area" by Jim Lane from 1972. It's a riposte to another article by Mick Lynch published in the Irish Communist (which I'd dearly love to get hold of a copy) in 1970 where it was argued that the IRA were essentially a Roman Catholic Sectarian militia. Now, I don't intend to argue the rights and wrongs of that line of discussion, but simply to note that as early as 1972 it was a bone of contention amongst certain sections on the left.
As it happens the article was 'refused publication in the Irish Communist, organ of the Irish Communist Organisation (Now the BICO) because they considered it was promoting Catholic Nationalism'.
Overall it's well written, well produced and interesting insight into the sorts of discussion which revolved then (and now) around BICO.
Incidentally here from Fintan Lane (and I've swiped it from here ) is an overview of the Cork Workers' Club and its history…
Interesting…and bizarre to see this pamphlet surfacing. Anyway, a little bit of background information:

The 'Cork Communist Organisation' was made up largely, I believe, of the Saor Eire people (publishers of 'People's Voice' etc.), who had earlier merged with the ICO. Their politics was a mixture of Marxist-Leninism (Maoism in this instance) and republicanism. My father - Jim Lane - was involved.

Anyhow, they eventually abandoned the ICO, partly because of the drift towards a 'two-nationist' position. Brian Girvin stayed with the ICO/BICO.

The CCO later morphed into the Cork Workers Club, which survived into the late 1970s as a real group and, afterwards, as a sort of publishing house. The bookshop in Nicholas Church Place remained open until the early 1980s, when it was actually an IRSP bookshop/office. It was a centre for the anti-H-Block campaign during the hunger strikes and was later used by the Release Nicky Kelly Campaign. In its early years in the late 1960s and early 1970s, public meetings were held upstairs at times. I remember once seeing a poster advertising an appearance there by Eamon McCann.

I 'staffed' the bookshop for a while in the early 1980s, when it was open only on Saturday and some week nights. There were some regular customers, but, as time moved on, few people slinked in besides the affiliated. Its heyday really was at the end of the 1960s and early 1970s when it was the place to go in Cork to get left-wing and republican literature. It was a genuine backstreet bookshop and when other places opened, such as the bookshop in the Quay Co-op in the early 1980s, it effectively no longer had much of a purpose. It was too far off the beaten track. A strange place, in some ways. Internet shopping would have wiped it out, had it survived that long, because it primarily dealt in political material that mainstream shops wouldn't sell.

The 'Internationalist' bookshop in Shandon (Ballymacthomas to be precise) was set up by some Maoist students and was shortlived, as it was effectively sacked by locals stirred up by anti-communism. I suppose, unlike the group around the CWC in Nicholas Church Place, they didn't have links with the local community, to any real degree. The CWC people were all working class and at least one member - Jerry Higgins - came from St Nicholas Ch. Place itself.
Fintan Lane - October 30, 2007
More from Cork Workers' Club
Cork Workers' Club in the archive
---