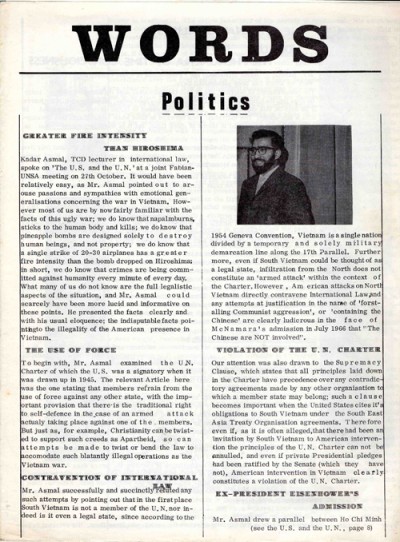 Please note:  The Irish Left Archive is provided as a non-commercial historical resource, open to all, and has reproduced this document as an accessible digital reference. Copyright remains with its original authors. If used on other sites, we would appreciate a link back and reference to The Irish Left Archive, in addition to the original creators. For re-publication, commercial, or other uses, please contact the original owners. If documents provided to The Irish Left Archive have been created for or added to other online archives, please inform us so sources can be credited.
Commentary From The Cedar Lounge Revolution
23rd August 2010
Many thanks to Tommy Graham, editor of History Ireland , for making this document available to the Archive.
'Words' dates from close to the earliest phase of the Internationalists, the organisation that would subsequently develop into the Communist Party of Ireland (Marxist-Leninist). As noted here…  
When The Internationalists were first set up in Trinity College Dublin in November 1965, it was not as a fully-formed Marxist-Leninist party, but 'as an exercise in better staff-student relations.' This loose discussion group held meetings with titles such as "Academic Freedom" and "The Function of a University", and continued until October 1966, when the decision was taken, presumably by Bains and his supporters, to establish a more disciplined organisation which would focus on 'which theory we are going to follow, which motivation we should have, which class we are going to favour' (2). Sometime towards the end of 1966 the group renamed itself the Trinity Internationalists, and began to issue a periodical entitled Words and Comment. There were at least eleven issues produced between 1966 and 1968, and Trinity's library has at least seven of them for those privileged enough to have access. (3)
It's a striking document which clearly is positioned within the much less formal context of a staff student discussion vehicle. From the four page essay by Hardial S. Bains on 'The Phenomena of Time Consciousness' to the concentration on Vietnam to the 'Straight Facts: Radio Telefis Eireann' it is very much of its time, although there is a telling piece on the back page about the slogan 'Make Love Not War' which takes that formulation to task. In some respects that and the tone of the Bains article are the only significant hints of the ideological rigour which would later be manifested in the CPI(M-L). Tied into that is a much less rhetorical use of language throughout.
A useful indication of a transitional stage in the political origins of one of our better known further left formations.
More from The Internationalists
The Internationalists in the archive
---