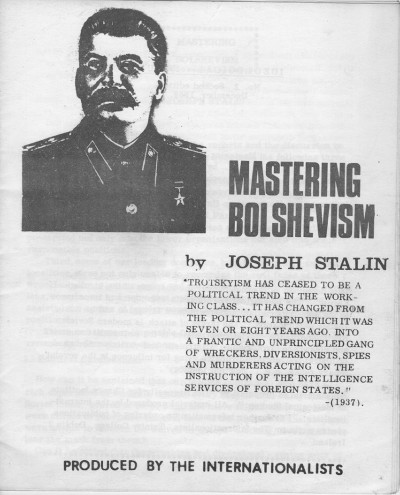 Please note:  The Irish Left Archive is provided as a non-commercial historical resource, open to all, and has reproduced this document as an accessible digital reference. Copyright remains with its original authors. If used on other sites, we would appreciate a link back and reference to The Irish Left Archive, in addition to the original creators. For re-publication, commercial, or other uses, please contact the original owners. If documents provided to The Irish Left Archive have been created for or added to other online archives, please inform us so sources can be credited.
Commentary From The Cedar Lounge Revolution
21st July 2008
The term Stalinist is bandied around a fair old bit in further left political circles, sometimes correctly, sometimes not. But for an example of a truly 'Stalinist' document one need not look further than this, a reprint by the Internationalists of "Mastering Bolshevism" by Stalin.
The Internationalists, who when they grew a bit older became the Communist Party of Ireland (Marxist Leninist) [of which more here] were founded by Hardial Bains who - it must be admitted - worked prodigiously to promote Maoism as an aspect of Marxist-Leninism, then when that failed the test during the Sino-Albanian split went with Hoxha and Albania. That such an exotic bloom should flower, albeit temporarily and in a very limited way, in Ireland is testament to Bains who apparently studied in Trinity College Dublin in the mid-1960s.
The political purpose of the Internationalists is evident in the quote on the cover from Stalin himself:
Trotksyism has ceased to be a political trend in the working class… It has changed from the political trend which it was seven or eight years ago into a frantic and unprincipled gang of wreckers, diversionists, spies and murderers acting on the instruction of the intelligence services of foreign states…(1937)
The then contemporary nuance is explained in a preface on the inside cover which argues that:
… The target of attack is modern Soviet Revisionism, the 'revisionist' parties in the imperialist countries and elsewhere, trotskyism [note the lower case 't'], 'Castroism' and various other shades of liberal bourgeoisie ideologies vying for influence in the revolutionary ranks, e.g.. 'new left ideology'.
[To which the only answer might be that if this pamphlet is agin them then I'm for those new leftists and revisionists.] But during this period the 'new left' and attendant supporters was in the ascendant and this sort of gesture was presumably necessary by their lights.
That said the small issue as to whether Stalin's (unbelievably repetitious) ruminations on Trotsky et al had any bearing at all on how socialism of whatever form should be progressed in Ireland in the 1960s seems to have escaped those who published and distributed this pamphlet.
The advert on the second last page promoting "Necessity for Change Progressive Books and Periodicals", or plain old Progressive Books as we knew it later is interesting [although perhaps not quite as interesting as the question of how such a small group could afford a bookshop… Now that's what I call dedication]. The term "Necessity for Change" came from a conference Bains had organised to found Marxist-Leninist parties, but it's indicative of the propensity for sloganeering, something that carried on into the CPI (ML).
A small note: Oddly enough this is the only piece of material I've ever had any qualms in putting up due to the author of the content. But it's an archive and reflective of the times, ideas and people involved…
More from The Internationalists
The Internationalists in the archive
---