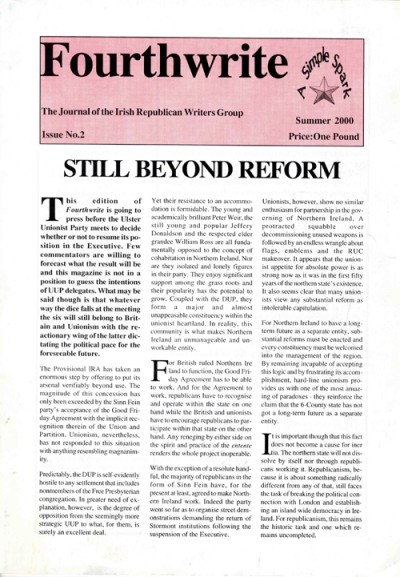 Date:
2000
Organisation:

Irish Republican Writers Group

Publication:

Fourthwrite

Issue:
Number

2


Summer 2000

Tony Catney

,

Sean Hayes

,

John McAnulty

,

Frances McAuley

,

Anthony McIntyre

,

Tommy McKearney

,

John Meehan

,

Billy Mitchell

,

Malachi O'Doherty

,

Sean O'Hare

,

Meg Robinson

,

Des Wilson

View:
View Document
Discuss:
Comments on this document
Subjects:
 
Please note:  The Irish Left Archive is provided as a non-commercial historical resource, open to all, and has reproduced this document as an accessible digital reference. Copyright remains with its original authors. If used on other sites, we would appreciate a link back and reference to The Irish Left Archive, in addition to the original creators. For re-publication, commercial, or other uses, please contact the original owners. If documents provided to The Irish Left Archive have been created for or added to other online archives, please inform us so sources can be credited.
Commentary From The Cedar Lounge Revolution
7th June 2010
This addition to the Archive is in a sense housekeeping. Fourthwrite, the Journal of the Irish Republican Writers Group, is still available on their website , albeit that has not been updated in a number of years, and this edition  is also available in text format there. So we were somewhat hesitant about adding it. However, it represents an important strand, not least because it is a good example of more recent left wing critiques from within and beyond Republicanism, and a very broad range of Republicans at that. And those of us adding to the Archive believe that it is as much the form and format as the text of a document that is representative of a group or a party.
And so it is with this edition which does not simply include Republicans who are supportive or antagonistic to the Good Friday Agreement, but also Malachi O'Doherty and a representative of the PUP. And the range of topics addressed is comprehensive, from arms decommissioning to an interview with Brendán Mac Cionnaith.
The editorial is worth particular mention. It notes that:
One thing we do say though is that we have received a large number of compliments and suggestions from those who insist that for one reason or another they wish to remain anonymous. We shall always respect peoples right to privacy and will not attempt to take unfair advantage of what is said to us in confidence. Nevertheless, the real impact of a platform such as this is when republicans take their convictions into the open arena and speak their mind before the whole world.
It also betrays an unease with the situation.
There is no point in saying in a few years time that you always felt that something was amiss but that you considered it best to stay silent. Silence can border on complicity and where it prevails it is in that mute corner where the battle is lost. If those who know better remain silent, they are almost as responsible for the outcome as those who effect the situation.
As interesting as the text in many documents are the advertisements and there is for instance the intriguing Chicago based Irish Anti-Partition League whose slogan is 'We serve neither Stormont nor Free State! Conspire and collaborate for the Republic!'.
Incidentally at the Archive we have a policy of not posting up any directly contemporary periodicals unless we have permission from the groups that are publishing them. But we do welcome any and all materials from whatever quarter of the Irish left.
Update - 5/2/2015: The FourthWrite website referred to above is no longer available, but can be found archived on the Internet Archive's Wayback Machine: fourthwrite.ie 2010 
More from Fourthwrite
---