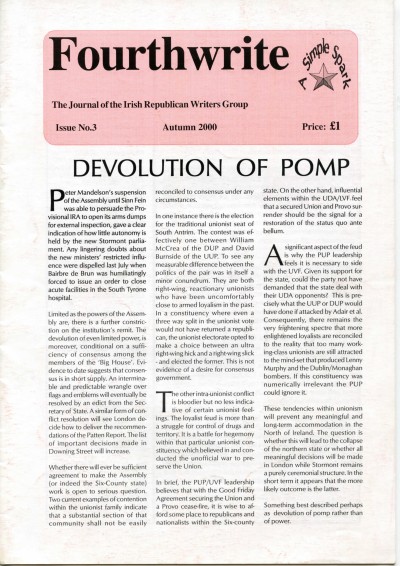 Date:
2000
Organisation:

Irish Republican Writers Group

Publication:

Fourthwrite

Issue:
Number

3


Autumn 2000

Arthur Aughey

,

Sandy Boyer

,

Patricia Campbell

,

David Carlin

,

Joe Craig

,

Mark Hayes

,

Brendan Hughes

,

Anthony McIntyre

,

Tommy McKearney

,

Liam O'Comain

,

Eoghain O'Neill

,

Liam O'Ruairc

,

Ciara Ní Tuama

,

Bob White

View:
View Document
Discuss:
Comments on this document
Subjects:
 
Please note:  The Irish Left Archive is provided as a non-commercial historical resource, open to all, and has reproduced this document as an accessible digital reference. Copyright remains with its original authors. If used on other sites, we would appreciate a link back and reference to The Irish Left Archive, in addition to the original creators. For re-publication, commercial, or other uses, please contact the original owners. If documents provided to The Irish Left Archive have been created for or added to other online archives, please inform us so sources can be credited.
Commentary From The Cedar Lounge Revolution
20th May 2019
Many thanks to the person who forwarded this to the Archive.
This edition of Fourthwrite joins another in the Archive. As with the other editions it covers a considerable area in terms of content.
The front page article under the heading 'Devolution of Pomp' criticises the recent suspension of the Assembly which only ended with the decision by PIRA to open arms dumps to inspection. And it argues that:
Whether there will ever be sufficient agent to make the Assembly (or indeed the Six-County state) work is open to serious question.
Interestingly in the editorial mention is made of criticism of Fourthwrite for not excluding from the pages of the magazine 'those who are diametrically opposed to republicanism. An argument is made that we are providing a vehicle of expression for the 'pro-British' lobby.' The editorial notes that anti-republican sentiment is well catered for and that it remains the policy of the magazine to 'engage in debate with our opponents, and we cannot do that and deny them their voice at the table'.
Other pieces in the publication include Arther Aughey on 'Contemporary Irish republicanism', 'Revisionism' by Liam O'Ruairc, 'The Prisoners' by Brendan Hughes and 'Loyalist Platform' by Joe Craig.
Also included in this edition is a Special Supplement that examines the then recent shooting of Joseph O'Connor in West Belfast and the intimidation of Republican Writers Group members subsequent to that for a statement that was issued by them. It includes statements from the SWP, IRSP and other groups in support of the RWG.
More from Fourthwrite
---