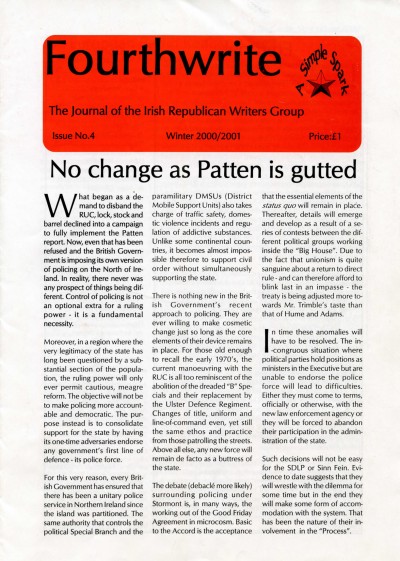 Date:
2000
Organisation:

Irish Republican Writers Group

Publication:

Fourthwrite

Issue:
Number

4


Winter 2000/2001

Paul Bew

,

Patricia Campbell

,

Mags Glennon

,

Tommy Gorman

,

Brendan Hughes

,

Paul Little

,

John McAnulty

,

Eamonn McCann

,

Henry McDonald

,

Anthony McIntyre

,

Tommy McKearney

,

Liam O'Ruairc

,

Lin Solomon

,

Ciara Ní Tuama

View:
View Document
Discuss:
Comments on this document
Subjects:
 
Please note:  The Irish Left Archive is provided as a non-commercial historical resource, open to all, and has reproduced this document as an accessible digital reference. Copyright remains with its original authors. If used on other sites, we would appreciate a link back and reference to The Irish Left Archive, in addition to the original creators. For re-publication, commercial, or other uses, please contact the original owners. If documents provided to The Irish Left Archive have been created for or added to other online archives, please inform us so sources can be credited.
Commentary From The Cedar Lounge Revolution
17th December 2018
Many thanks to the person who forwarded this to the Archive.
This edition of Fourthwrite, published by the Irish Republican Writers Group, appropriately is from the Winter of 2000/2001. At a remove of eighteen years it provides an useful insight into the period after the Good Friday/Belfast Agreement was signed.
The lead article is argues that the Patten report was 'gutted' and that 'the British government is imposing its own version of slicing on the North of Ireland'. It continues 'in reality there never was any prospect of things being different… control of policing is not an optional extra for a ruling power – it is a fundamental necessity'. It is deeply sceptical of the idea that there will be real change and argues that the British Government 'has ensured that there has been a unitary police service in NI since partition' and that this will continue with the 'same authority' controlling Special Branch and 'taking charge of traffic safety, domestic violence incidents and regulation of addictive substances'. And it suggests that for Sinn Féin and the SDLP 'such decisions [to come to terms with policing] will not be easy… evidence suggests they will wrestle with the dilemma for some time but in the end they will make some form of accommodation with the system'.
The editorial mentions 'harassment of IRWG members, Anthony McIntyre and Tommy Gorman' but states that its commitment to continuing publication remains unchanged. And it asks about what tasks continue to face radical Irish Republicanism – 'is the new republic to be a workers republic', 'what economic benchmark do republicans set for the citizens?', 'how will republicans adopt an ethical and neutral foreign policy and can a foreign policy be both?' are questions asked amongst others.
A wide range of contributions will be found in the sixteen pages, with authors as diverse as Paul Bew and Eamon McCann.
More from Fourthwrite
---