Workers and the Celtic Tiger: Why Partnership Doesn't Pay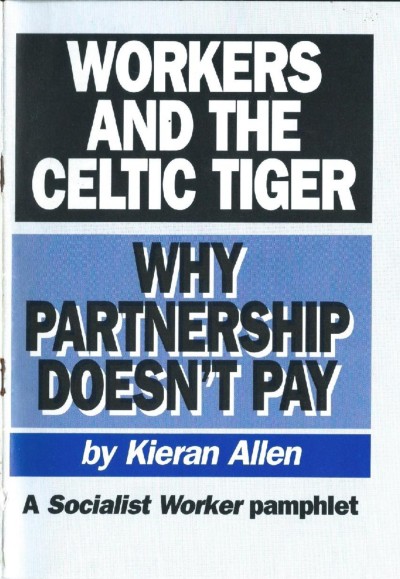 Please note:  The Irish Left Archive is provided as a non-commercial historical resource, open to all, and has reproduced this document as an accessible digital reference. Copyright remains with its original authors. If used on other sites, we would appreciate a link back and reference to The Irish Left Archive, in addition to the original creators. For re-publication, commercial, or other uses, please contact the original owners. If documents provided to The Irish Left Archive have been created for or added to other online archives, please inform us so sources can be credited.
Commentary From The Cedar Lounge Revolution
4th November 2019
Many thanks to the person who forwarded this to the Archive.
Published in 1999 by the Socialist Workers Party and written by Kieran Allen, it engages with the position of workers during the Celtic Tiger years. Carolan Duggan, shop steward and Vice President of SIPTU writes in the Introduction that while big business sings the parses of the Celtic Tiger:
It is a very different story for workers. Politicians say that we should be grateful for the jobs and the new buzz. However, employers should be grateful to us because it is our labour that has created this boom – even though we are seeing little of it.
And:
One statistic tells the whole story. In 1987 when Charles Haughey first agreed the Programme for National Recovery with the top union leaders, the same of the national economy going to profits, interests and dividends was 31%. The share going to wages, pensions and social security – in other words the working class – was 69%. Ten years later this has changed. The share of the national cake going to unearned income has increased to 41%. The share going to working people has decreased to 59%.
In a series of short chapters the document engages with Pay: How Workers Have Lost Out, Tax Cuts Galore, Business Unionism or Fighting Unions? And Why the Union leaders Love Partnership amongst others. It concludes:
The lords of poverty who run this system are tightly organised. They have their press, their army, their politicians who are bought. If we are to win our side has to be equally organised into a party that can move as one to defeat the employers and their system.
More from Socialist Workers' Party
Socialist Workers' Party in the archive
---