Trade Union and Unemployed Workers Group: Resolutions passed at the April 9th 1978 Conference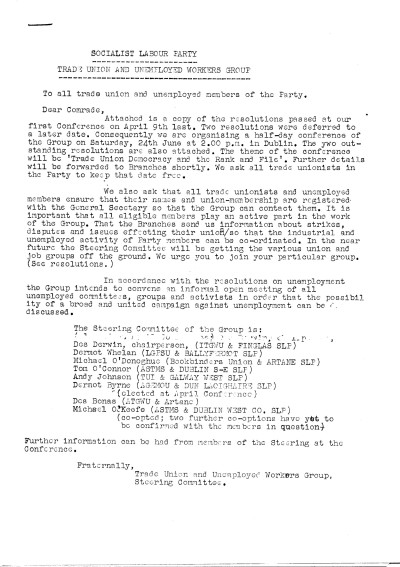 Please note: The Irish Left Archive is provided as a non-commercial historical resource, open to all, and has reproduced this document as an accessible digital reference. Copyright remains with its original authors. If used on other sites, we would appreciate a link back and reference to the Irish Left Archive, in addition to the original creators. For re-publication, commercial, or other uses, please contact the original owners. If documents provided to the Irish Left Archive have been created for or added to other online archives, please inform us so sources can be credited.
Commentary From The Cedar Lounge Revolution
24th June 2019
Many thanks to Jim Monaghan for forwarding this to the Archive
This month we intend to post up documents from the Socialist Labour Party which existed in the late 1970s and was a serious attempt to construct a further left platform party.
This latest addition is a short document from the Socialist Labour Party includes resolutions from the Trade Union and Unemployed Workers Group and a covering letter from the steering committee which includes some names familiar from the Irish left.
The letter notes that 'two resolutions were deferred to a later date' and announces a half day conference of the Group on the theme of 'Trade Union Democracy and the Rank and File'.
It asks that 'all trade unionists and unemployed members ensure that their names and union-membership are registered with the General-Secretary so that the Group can contact them' and asks branches to send 'information about strikes, disputes and issues affecting their unions so that the industrial and unemployed activity of Party members can be coordinated'.
The resolutions cover a wide range of areas – from those calling on the commission of a publication of 'an easy to read, popular and cheap pamphlet on 'Fighting for the Right to Work' to the structure of the TU&UWG itself and calls for a minimum wage and 35 hour week.
More from Socialist Labour Party
Socialist Labour Party in the archive
---