Socialist Labour Party Constitution
November 1977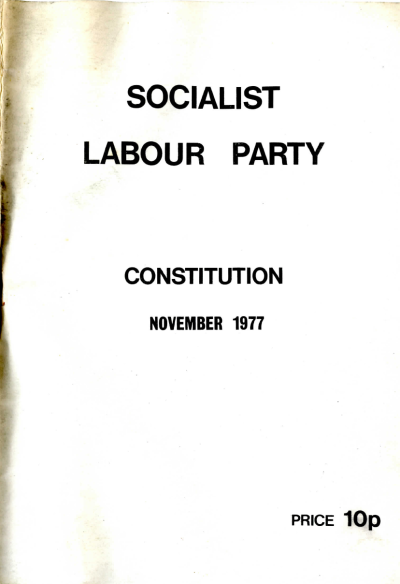 Please note: The Irish Left Archive is provided as a non-commercial historical resource, open to all, and has reproduced this document as an accessible digital reference. Copyright remains with its original authors. If used on other sites, we would appreciate a link back and reference to the Irish Left Archive, in addition to the original creators. For re-publication, commercial, or other uses, please contact the original owners. If documents provided to the Irish Left Archive have been created for or added to other online archives, please inform us so sources can be credited.
Commentary From The Cedar Lounge Revolution
6th April 2015
Many thanks to Peter Mooney for donating this document to the Archive – one of many from his collection that will be reproduced here in coming months.
This eight page A5 leaflet is the constitution of the short-lived Socialist Labour Party. As the Introduction by Dave Neligan notes:
The SLP was founded in November 1977 when a decision was taken at our inaugural conference in Liberty Hall Dublin to form a new political party. Its aim is to create a genuine socialist democracy in the 32 counties of Ireland.
It notes that:
Such a society will depend on the initiatives of many thousands of people and it will require dedication and unselfishness which we believe is readily available. We have set ourselves uncompromising standards in order to achieve our aims.

Ireland is a society that for too long has tolerated acute poverty, emigration and unemployment, with the consequent gross wastage of resources and the affronts to human dignity.

We believe that no other political party in the country will produce the necessary changes to bring about the creation of new wealth and the redistribution of wealth power from the rich to the working class and that, therefore we have a role in socialist education and agitation.

Through our local branches and various associated groups, Young Socialists, Womens Rights, unemployed and trade unionists we believe in a thorough democratic involvement of our membership in decision-making and action and that this is a vital factor in the creation of genuine socialist democracy.
The objectives of the party are outlined clearly:
It's objective shall be the creation in all of Ireland of a Democratic, Secular, Socialist Republic, based on the social economic and political teachings of James Connolly's Workers Republic.

It shall therefore seek the total overthrow of all imperialist, neo-imperialist, capitalist and neo-colonialist interests in Ireland. It therefore commits itself to securing a withdrawal of the British presence in all it's forms from the 32 counties in Ireland, including the withdrawal of British troops from the 6 north eastern counties of Ireland.
It engages with the Irish language, Arts and Literature, 'freedom of political thought and activity of all its citizens' and:
It recognises that sexism and discrimination against women in all its forms divides and holds back the struggle of working people for a democratic socialist society. it therefore commits itself to a forceful policy in order to bring about greater awareness that such demands are in the interests of all working people, women and men.
The structure is described in detail. Constituency Branches, AGM's, Branch Executives, National Executive and so forth. It also notes that:
A party member may also be a member of an organised political tendency within the Party, and of non-party political or quasi-political organisations. However the member shall be required to give his or her public loyalty to the Party and its Programme.
More from Socialist Labour Party
Socialist Labour Party in the archive
---