The Ripening of Time, No. 13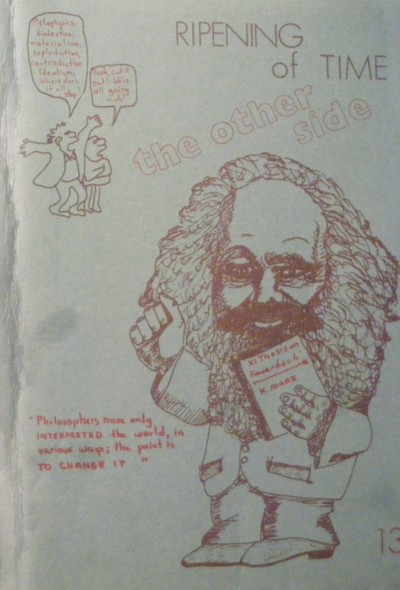 Please note:  The Irish Left Archive is provided as a non-commercial historical resource, open to all, and has reproduced this document as an accessible digital reference. Copyright remains with its original authors. If used on other sites, we would appreciate a link back and reference to The Irish Left Archive, in addition to the original creators. For re-publication, commercial, or other uses, please contact the original owners. If documents provided to The Irish Left Archive have been created for or added to other online archives, please inform us so sources can be credited.
Commentary From The Cedar Lounge Revolution
11th March 2019
Adding to the collection of Ripening of Time in the Archive, is this, number 13. A 52 page long document the introduction notes that:
In this issue we deal with a number of aspects of the struggle of the working class in Ireland during the 1970s.

In pp.7-22 we examine the growing practice of absenteeism inside the working class. The perspective in this article is to place absenteeism in a context of working class resistance and struggle – a method used borking people as part of their refusal to accept he role fo wage labour subjugated to the rule of capital.
The second article complete the examination of the post World War 2 period, begun in issue 11. It analyses the reorganisation of the economy and the living conditions of the working class through the crisis decade of the 1970s in Ireland.
Two major strikes in the Limerick Shannon Area (one in the 1960s, the other in the 1970s) are the subject of the essay From E.I to Ferenka. This article is in the form of a documentation of the day-to-day events, positions taken and outcome fo these two strikes – on in the E.I. factory the other in Ferenka.
The problem of Democratic Unity was the title of an article written by Roy Johnson, which was printed in Issue 9… A member of the Editorial Collective, Jim Sloane, takes this opportunity to reply to some of the points made by Roy Johnston in that Article.
Finally it notes: our regular features appear with a long review by Les Levidow of a book written by Daniel Guerin: 100 Years of American Labour.
More from The Ripening of Time
The Ripening of Time in the archive
---