The Ripening of Time, No. 9
Capital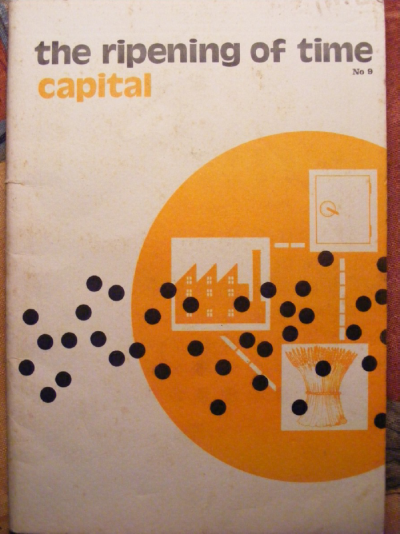 Please note:  The Irish Left Archive is provided as a non-commercial historical resource, open to all, and has reproduced this document as an accessible digital reference. Copyright remains with its original authors. If used on other sites, we would appreciate a link back and reference to The Irish Left Archive, in addition to the original creators. For re-publication, commercial, or other uses, please contact the original owners. If documents provided to The Irish Left Archive have been created for or added to other online archives, please inform us so sources can be credited.
Commentary From The Cedar Lounge Revolution
4th June 2018
Many thanks to the person who scanned this document.
As noted before with the Ripening of Time series the sheer volume of the publication is beyond providing an clear précis. The topic of this edition is Capital and follows on from previous editions already in the Archive – most notably No. 7 of which some articles are direct successors. The contents includes a piece on The Break-Up of Capital part II, On the Problem of Democratic Unity by Roy Johnston, further Reflections on Agriculture and Book Reviews.
As the introduction 'to the reader' notes:
This issue of The Ripening of Time concentrates on identifying the major elements for an examination of the bourgeois class and its origins in Ireland.
And the Editorial from the Ripening of Time Collective argues that:
These last few issues have examined the historical co-existence of different modes of production in Ireland. The complex and contradictory class structure which has resulted from that history will be the object of study for the next few issues. We have started this work and will continue to analyse the Irish social formation from the standpoint that the Capitalist Mode of Prodcution is the dominant mode in the 32 cos. – and thus the fundamental contradiction between capital and labour is the main motor force of class struggle.
The piece by Roy Johnston is particularly interesting in that it covers efforts for left unity in the mid to late 1970s including the Communist Party of Ireland, the Liaison Committee of the Labour Left and Sinn Féin the Workers Party.
More from The Ripening of Time
The Ripening of Time in the archive
---