The Ripening of Time, No. 7
Capital in Ireland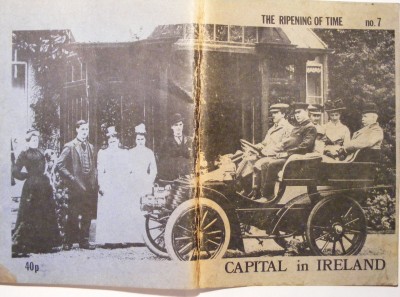 Please note:  The Irish Left Archive is provided as a non-commercial historical resource, open to all, and has reproduced this document as an accessible digital reference. Copyright remains with its original authors. If used on other sites, we would appreciate a link back and reference to The Irish Left Archive, in addition to the original creators. For re-publication, commercial, or other uses, please contact the original owners. If documents provided to The Irish Left Archive have been created for or added to other online archives, please inform us so sources can be credited.
Commentary From The Cedar Lounge Revolution
19th February 2018
Many thanks to the person who scanned this document and forwarded it to the Archive.
As always with the Ripening of Time the sheer volume of the publication is beyond providing an clear précis. The topic of this edition is Capital in Ireland. The contents includes a piece on The Break-Up of Capital, Reflections on Agriculture including a Reappraisal of the Irish Industrial Revolution and the issue of Ground Rent. There's an overview of the Fishing Market and another on The Bourgeois Class in Ireland.
The publication includes both reviews and a letter section. The preface notes;
This seventh issue of the Ripening of Time begins the examination of the bourgeois class in Ireland. It is the bourgeois class which owns and controls the means of production, the State and the ruling ideas in the 32 counties. It is this bourgeois class we intend to put under the microscope in this and the coming issues of the journal.
The editorial of this issue is rather unusual. It is a reproduction of a letter written by a group of French workers who are at present occupying their factory. it is a militant appeal for political support and solidarity. It speaks for itself and is a stark condemnation of the other seamy side of capitalism.
More from The Ripening of Time
The Ripening of Time in the archive
---