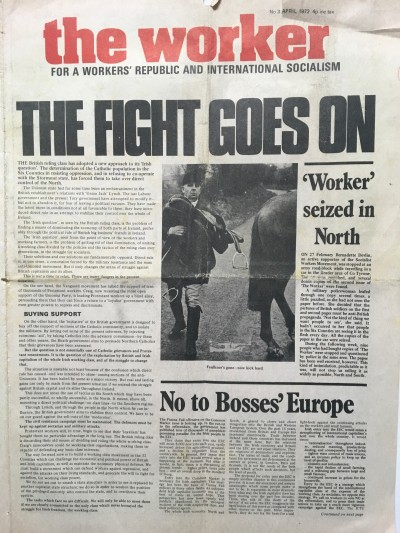 Please note:  The Irish Left Archive is provided as a non-commercial historical resource, open to all, and has reproduced this document as an accessible digital reference. Copyright remains with its original authors. If used on other sites, we would appreciate a link back and reference to The Irish Left Archive, in addition to the original creators. For re-publication, commercial, or other uses, please contact the original owners. If documents provided to The Irish Left Archive have been created for or added to other online archives, please inform us so sources can be credited.
Commentary From The Cedar Lounge Revolution
22nd October 2018
Many thanks to the person who forwarded this to the Archive.
This edition of the Worker joins two already in the Archive and from the same period. The Worker was the regular publication of the Socialist Workers Movement. As with other party papers from this period it has a tabloid format and an extensive range across eight pages.
The lead story examines the issue of direct rule in Northern Ireland by London. It argues that:
The civil resistance campaign must be maintained. The defences must be kept up against sectarian and military attacks. Protestant workers will, in time, being to see that their 'loyalism' has brought them no particular advantage in the long run. The British ruling class is discarding their old means of dividing and ruling the whole working class. Craig's manoeuvres could tie working class organisations, making them incapable fo defending any basic class interests.
And it suggests that:
The way forward now is to build a working class movement in the 32 counties which can challenge ether economic and political power of British and Irish capitalism, as well as maintain the necessary physical defence.
Other pieces note that editions of the Worker were seized from a car driven by Bernadette Devlin, another strongly critiques the move to enter the EEC and a near full page article later in the publication asks 'What is the Common Market'.
It also notes that in March of 1972 the SWM affiliated to the Socialist Labour Alliance. This gives some insight into the genesis of that entity.
More from The Worker
---