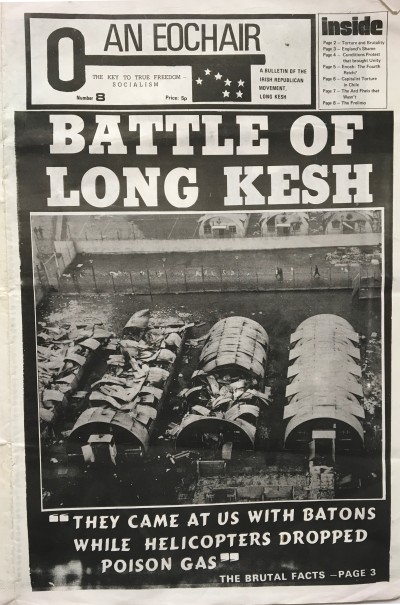 Please note:  The Irish Left Archive is provided as a non-commercial historical resource, open to all, and has reproduced this document as an accessible digital reference. Copyright remains with its original authors. If used on other sites, we would appreciate a link back and reference to The Irish Left Archive, in addition to the original creators. For re-publication, commercial, or other uses, please contact the original owners. If documents provided to The Irish Left Archive have been created for or added to other online archives, please inform us so sources can be credited.
Commentary From The Cedar Lounge Revolution
13th August 2018
Many thanks to the person who forwarded this to the Archive.
An Eochair is presented as the Bulletin of the Irish Republican Movement in Long Kesh and it takes an avowedly left wing line. Its political orientation is clearly to the Official Republican Movement, and there is a piece on '"The Ard Fheis that wasn't" which describes the Provisional Sinn Féin Ard Fheis in Dublin's Mansion House which "illustrated more than anything the lack of agreed policy in their political wing (I refuse to call their political wing Sinn Féin)".
There are a range of pieces in it including a page long article on FRELIMO in Mozambique.
There's another piece on "Why Long Kesh Burned" which describes the events when on October 20th of that year Long Kesh was set on fire Republican prisoners. In it Long Kesh is described as "Europe's only Concentration Camp".
There is also a piece on the Irish Small Farmer and poems and illustrations from prisoners.
A very interesting document. Any further information about its provenance, number of issues and so on would be much appreciated.
More from Sinn Féin [Official]
Sinn Féin [Official] in the archive
---