The Environment
A position paper presented by the administrative council to the 1978 annual conference of the Labour Party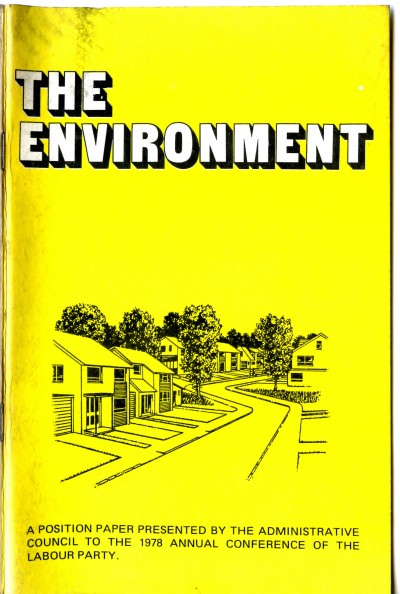 Please note:  The Irish Left Archive is provided as a non-commercial historical resource, open to all, and has reproduced this document as an accessible digital reference. Copyright remains with its original authors. If used on other sites, we would appreciate a link back and reference to The Irish Left Archive, in addition to the original creators. For re-publication, commercial, or other uses, please contact the original owners. If documents provided to The Irish Left Archive have been created for or added to other online archives, please inform us so sources can be credited.
Commentary From The Cedar Lounge Revolution
15th January 2018
Many thanks to Peter Mooney for donating this document to the Archive – one of many from his collection that are being reproduced here.
This document published by the Labour Party in 1978 focuses on the environment. It argues in the Introduction that…
The environment is important. It is a primary resource for tourism, for agriculture and for some industries. It si the base of our rural and urban settlements. The environment and what happens within it effects every one of us, both collectively and as individuals. The environment under our present social system is neither owned or controlled by us. Instead individuals be they land owners or single private industries have exploited the environment for their gain at our expense.
It also notes:
A socialist society can and will create a socially just environment. Such an environment would be base upon the principles of democratic socialism involving communal ownership, public participation, equal mobility, freedom and the positive encouragement for the personal development of every individual. The socialist perspective of the environment extends from the nature of land ownership to the fostering and development of our culture and the arts within society.
Divided into various sections, including Land, Planning, Environmental Management, Transportation, Housing, Culture and Recreation, Tourism and Local Government. As an Appendix it contains Submissions to the Plic8y Committee on Environmental Policy from various party branches. There are some, at this remove, interesting attitudes expressed amongst those submissions. The one from Cavan-Monaghan Constituency Council on 'The Itinerant Problem' is particularly notable.
In conclusion the document notes that 'The environment is a vast and complex area which affects every aspect of our lives. It can oppress or liberate our potential for human development. In transferring responsibility for tourism and transportation to the Dept. of the Environment, Labou will make logical and comprehensive sense of our socialist approach'.
More from Labour
---