Towards a Peaceful Ireland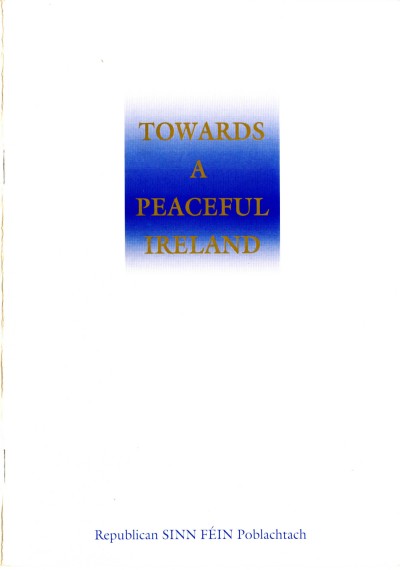 Please note:  The Irish Left Archive is provided as a non-commercial historical resource, open to all, and has reproduced this document as an accessible digital reference. Copyright remains with its original authors. If used on other sites, we would appreciate a link back and reference to The Irish Left Archive, in addition to the original creators. For re-publication, commercial, or other uses, please contact the original owners. If documents provided to The Irish Left Archive have been created for or added to other online archives, please inform us so sources can be credited.
Commentary From The Cedar Lounge Revolution
28th August 2017
Many thanks to the person who forwarded this to the Archive.
This short eight page document was produced seemingly in response to the talks in the late 1980s and very early 1990s that were a part of the peace process. In particular it fixes upon the statement by the British government that it had 'no selfish strategic or economic interest' in staying in Ireland.
The pamphlet is scathing about the prospects of such talks and restates Republican Sinn Féin policy on these matters. It argues for the establishment of a Constituent Assembly, the drafting of a new 32-county Constitution, a declaration by the British government to withdraw its forces within twelve months of that Constitution being adopted and an amnesty for all political prisoners.
It argues that in such a context there 'would be no necessity for the continuance of armed struggle'.
It also states that readers can contribute to peace by publicising the proposals.
More from Republican Sinn Féin
Republican Sinn Féin in the archive
---