Saoirse/Irish Freedom: Uimh. 1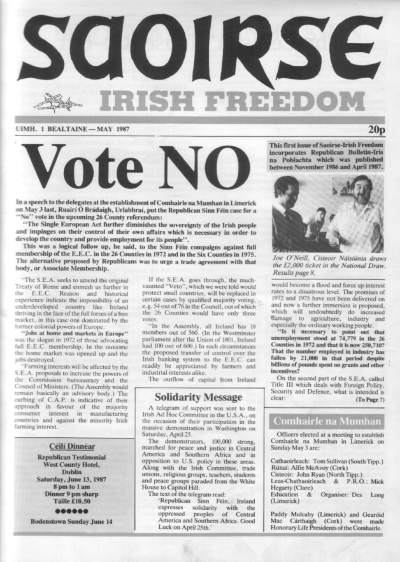 Please note:  The Irish Left Archive is provided as a non-commercial historical resource, open to all, and has reproduced this document as an accessible digital reference. Copyright remains with its original authors. If used on other sites, we would appreciate a link back and reference to The Irish Left Archive, in addition to the original creators. For re-publication, commercial, or other uses, please contact the original owners. If documents provided to The Irish Left Archive have been created for or added to other online archives, please inform us so sources can be credited.
Commentary From The Cedar Lounge Revolution
11th May 2015
Many thanks to the person who forwarded this to the Archive.
This paper published by Republican Sinn Féin is eight pages long. It is focused on various matters including the then upcoming referendum on the Single European Act. It includes a piece entitled 'The Leinster House Rip-Off' which outlines pensions, salaries, allowances and expenses and tax relief for TDs. There is a short piece on harassment of RSF activists by the Special Task Force.
There's also a long report on Easter 1987 and how 'Ireland Honours Her Patriot Dead' with a list of commemorative activities from across the island.
There's also an Easter Statement from the Republican Sinn Féin leadership which argues that:
For the men and women of 1916 there was to be no half-way house, no stepping stones to freedom, no Westminster, Stormont or Leinster House. That has been the position of those who fought, suffered and died for Irish Freedom in the centuries of resistance to British rule before the great event we commemorate today, and in the struggle does the years since 1916.

That is also the position of Republican Sinn Féin in 1987. The constitution of Sinn Féin to which we adhere says that for a SF elected representative to accept and take part in any parliament other than that of the All-Ireland Republic of 1916 is 'an act of treachery to be dealt with as such'.
As well as restating their support for 'the right of the Irish people to use whatever measure of controlled and disciplined force is necessary to secure a British withdrawal from Ireland' it also asserts that RSF:
…rejects the imperialist social and economic system operating in Ireland which is now in crisis. it is at present engaged in crushing further the poor and oppressed so that the rich may continue to prosper. We pledge ourselves to fight it at every opportunity.

We reject both power-blocs, East and West; we oppose all military alliances and seek a neutral, non-aligned Ireland.
More from Republican Sinn Féin
Republican Sinn Féin in the archive
---