The Struggle for Political Status by the H-Block & Armagh Prisoners is a Just and Heroic Struggle by Revolutionary Irish Patriots
Support the prisoners' five demands!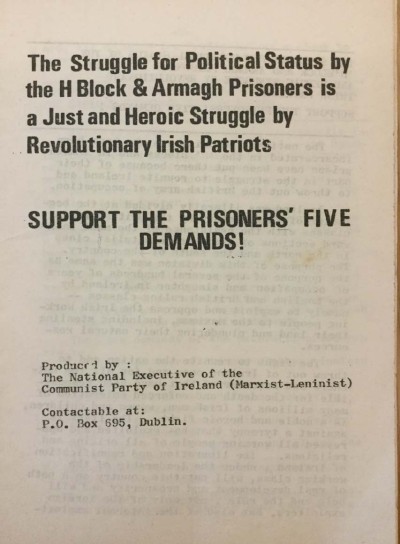 Please note:  The Irish Left Archive is provided as a non-commercial historical resource, open to all, and has reproduced this document as an accessible digital reference. Copyright remains with its original authors. If used on other sites, we would appreciate a link back and reference to The Irish Left Archive, in addition to the original creators. For re-publication, commercial, or other uses, please contact the original owners. If documents provided to The Irish Left Archive have been created for or added to other online archives, please inform us so sources can be credited.
Commentary From The Cedar Lounge Revolution
22nd August 2016
Many thanks to the person who forwarded this to the Archive.
This twelve page pamphlet was published in support of prisoners in H-Block and Armagh Prisons and their five demands during the hunger strikes. These being:
The right to wear their own clothes, instead of prison uniform.
The right to use their time on vocational, craft or cultural education and activity, instead of prison work.
The right to free association with fellow political prisoners.
The right to one otter, one parcel and one visit per week.
Restoration of remission of sentence lost through their protest.
It notes that in the 1970s the British government conceded 'special category status' – 'this amounted to an admission by British imperialism that these patriots were, indeed, political prisoners or prisoners of war'.
But it notes that just four years later that category was abolished. It outlines the course of the situation from there and argues that:
The Irish people are not going to forget that these 6 patriots were allowed to die despite the overwhelming justice of their demand.
It continues that:
In Ireland itself the heroism of the hunger strikers is inspiring more and more to take up revolutionary political activity.
The document also outlines those who it considers allies and opponents of the struggle. It argues that 'The question of tactics is a question for the Irish people' and concludes that 'The Long Term Solution is a United Socialist and Secular Ireland'.
More from Communist Party of Ireland (Marxist-Leninist)
Communist Party of Ireland (Marxist-Leninist) in the archive
---