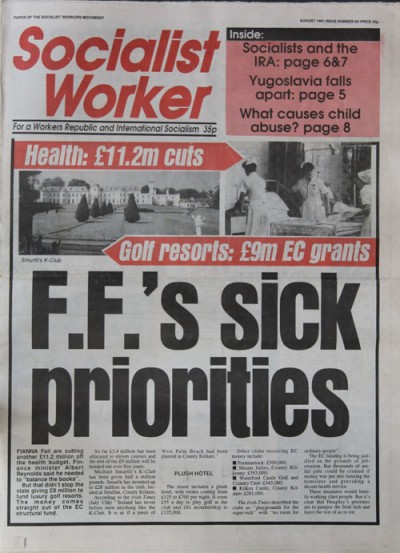 Please note:  The Irish Left Archive is provided as a non-commercial historical resource, open to all, and has reproduced this document as an accessible digital reference. Copyright remains with its original authors. If used on other sites, we would appreciate a link back and reference to The Irish Left Archive, in addition to the original creators. For re-publication, commercial, or other uses, please contact the original owners. If documents provided to The Irish Left Archive have been created for or added to other online archives, please inform us so sources can be credited.
Commentary From The Cedar Lounge Revolution
20th October 2014
Many thanks to the person who forwarded this to the Archive.
This edition of Socialist Worker from 1991 partly bridges a gap in the Archive in relation to SWM related material from the 1980s and 1990s. However, more materials from the SWM/SWP would be very welcome.
The contents of this are testament to the particularly eventful period during which it was published. But it is also a factor of a varied mix of articles. There is an article on Socialists and the IRA, another on the break up of Yugoslavia and a front page article lambasting Fianna Fáil, then in government.
The editorial argues that
The Fianna Fáil/Progressive Democrat government programme is coming unstuck. Last year the opinion polls showed a 55 per cent plus satisfaction rating with the coalition. Today, however, the government is being rocked by a growing tide of unpopularity.

The recession looks set to continue well into 1991 bringing a dramatic increase in unemployment worldwide.
It continues:
The ESRI has said that job creation between now and the year 2000 will be totally inadequate and states: 'In our scenario a total of of 230,000 people emigrate between 19991 and 2000, slightly more than emigrated in the period 1983=90'. But this scenario depends on the state of the world economy.
It suggests that:
There is growing anger against FF. This was reflected in the local elections with a shift towards Labour and the Workers Party. Although not as dramatic as the Robinson election, it revealed a significant move to the left.

We welcome this move because it means workers are beginning to vote on the basis of class divisions.
And it concludes.
The move to the Left needs to be built on, but not by concentrating simply on winning more votes. Instead socialists should attempt to build on the struggles that helped to create the left turn.

That requires a different type of party to Labour or the Workers Party. It requires a revolutionary party which focusses on workers self-activity.
One small article with a more contemporary resonance is the piece on how 'Waterford swings Left' where it notes that electoral gains were made on Waterford Corporation. It notes that Labour and the Workers' Party 'oppos(ed) the (service) charges on principle'.
More from Socialist Worker
Socialist Worker in the archive
---