One Ireland, One People - The Only Alternative
National Manifesto issued by Sinn Féin for the EEC Elections, June 14th, 1984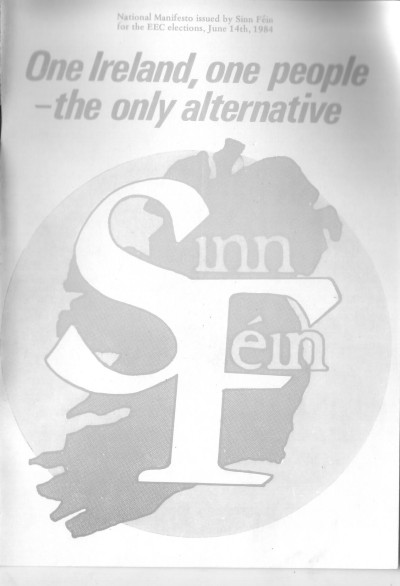 Please note:  The Irish Left Archive is provided as a non-commercial historical resource, open to all, and has reproduced this document as an accessible digital reference. Copyright remains with its original authors. If used on other sites, we would appreciate a link back and reference to The Irish Left Archive, in addition to the original creators. For re-publication, commercial, or other uses, please contact the original owners. If documents provided to The Irish Left Archive have been created for or added to other online archives, please inform us so sources can be credited.
Commentary From The Cedar Lounge Revolution
11th August 2014
Many thanks to the person who forwarded this to the Archive.
This interesting document printed for the EEC elections of 1984 is ten pages long. On the front cover it has the old SF logo with the initials SF superimposed on the map of Ireland. Inside it notes that:
SF is contesting the EEC elections in all five constituencies in the 32 counties, putting before the people a real alternative. We are the only all-Ireland party with an unapologetic stand in support of national re-unification and in defence of the right of the Irish people to resist British occupation.
It notes that SF has 'consistently opposed membership of the EEC'. And it suggests that the EEC has failed 'to pro due the economic miracle promised on entry'. It also argues that 'EEC membership has subjugated national sovereignty to the interests of the bigger and richer EEC states, only shifting the balance of colonial neo-colonial dependency on Britain to dependency on Brussels' and that it has 're-emphasised partition'.
Under various headings, Unemployment, Policy Control, Agriculture, Fisheries, Social Issues and Cultúr it critiques the EEC and it concludes by arguing:
SF advocates withdrawal from the EEC and the negotiation of trading agreements with it, but also advocates the implementation of a radical socialist economic programme in a united Ireland.
More from Sinn Féin
---