An Phoblacht Republican News, Iml. 1, Uimh. 38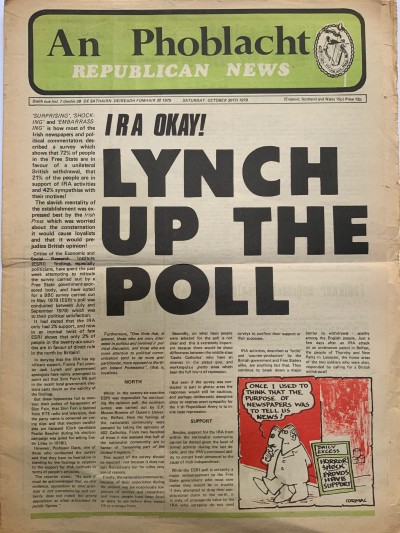 Please note:  The Irish Left Archive is provided as a non-commercial historical resource, open to all, and has reproduced this document as an accessible digital reference. Copyright remains with its original authors. If used on other sites, we would appreciate a link back and reference to The Irish Left Archive, in addition to the original creators. For re-publication, commercial, or other uses, please contact the original owners. If documents provided to The Irish Left Archive have been created for or added to other online archives, please inform us so sources can be credited.
Commentary From The Cedar Lounge Revolution
26th December 2022
This copy of An Phoblacht/Republican News joins other editions in the Archive. This one from 1979 bridges the gap between the mid-1970s and the mid-1980s.
The front page article argues that:
'SURPRISING', 'SHOCK­ING' and 'EMBARRASS­ING' is how most of the Irish newspapers and pol­itical commentators des­cribed a survey which shows that 72% of people in the Free State are in favour of a unilateral British withdrawal, that 21% of the people are in support of I RA activities and '42°/o sympathise with their motives! The slavish mentality of the establishment was ex­ pressed best by the Irish Press which was worried about the consternation it would cause loyalists and that it would pre­judice British opinion! 
Another piece states:
THE IRA's ambush of two British soldiers in plain-clothes at the bottom of Belfast's Whiterock Road a week last Monday was a double success. Not only was it a technical military success in undoubtedly curbing the activities of Brit under­cover men – one was killed and one seriously wounded – but also brought immediate political and propaganda pay-offs in encouraging 'troops out' sentiment in England.
There are many interesting pieces but of particular interest is one on the Left Press which looks at 'Irish Socialist', 'Starry Plough', 'Socialist Republic', 'Militant' and 'United Irishman'. It also looks at 'Comment' from the British and Irish Communist Organisation. Of this latter it says.
COMMENT is the fort­nightly magazine of th British and Irish Comm­unist Organisation (BICO) who are the main prop­onents of the two-nations theory. As the BICO support the British occu­pation of the north • a basis for the advance of Socialism, they have earned themselves the same sort of respect that is due to the Flat Earth Society. 
More from An Phoblacht Republican News
An Phoblacht Republican News in the archive
---