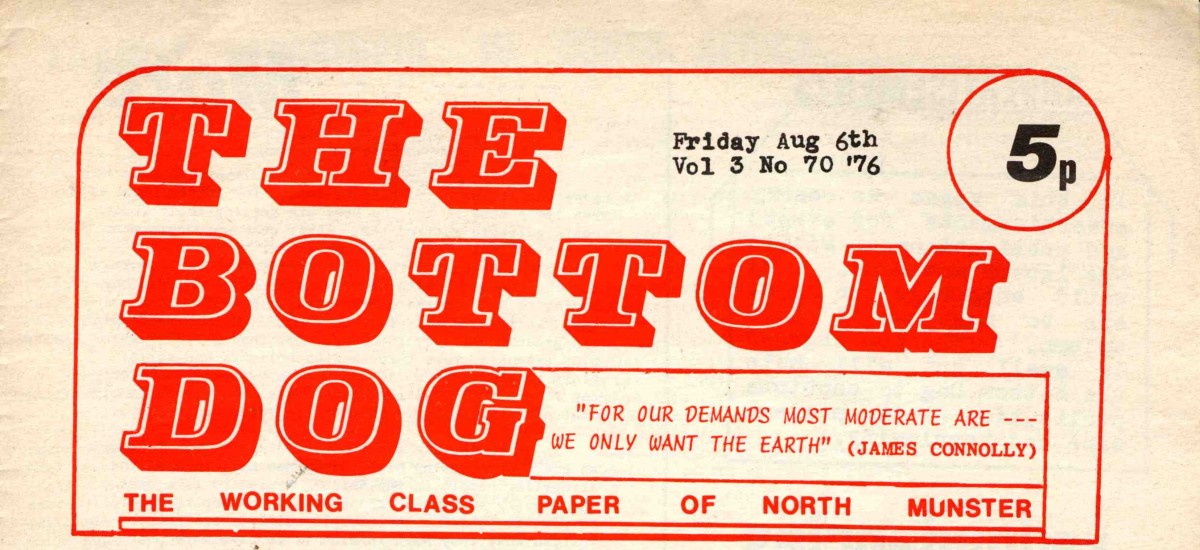 About
The Bottom Dog was a Limerick-based newspaper, published from 1975 and subtitled "the working class paper of North Munster".
A number of digital issues are available from Limerick council Local Studies, where it states:
In 1975 a group of young Limerick workers active in the trade union movement and radical left-wing politics decided to bring out a rank and file newspaper that was relevant to the industrial struggles of the working class of Limerick city and North Munster. Calling itself 'The Bottom Dog', the paper reported on strikes, fight-backs against factory redundancies and struggles for trade union recognition. It also dealt with womens' issues, family planning and government policies on matters such as social welfare and unemployment.

Named after a Limerick working class paper published between December 1917 and November 1918 which ran for forty-eight issues, the first edition of the 1975 reincarnation of 'The Bottom Dog' was numbered Vol. 3, No 49.

Limerick Local Studies 
Contributors
Joe Harrington, Tom Hayes, Dave Lee, Jim McNamara, Pat O'Connor
Note: This list is not exhaustive. Only named authors with entries in the archive are listed here.
External Resources
Limerick Council Local Studies Collection

Contains digital copies of a number of issues of The Bottom Dog.
---