The Bottom Dog, Vol. 3, No. 53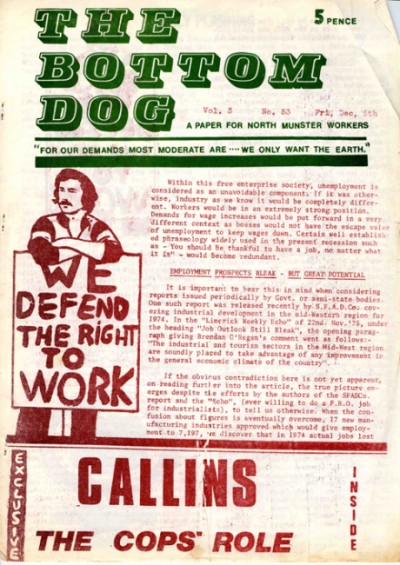 Please note:  The Irish Left Archive is provided as a non-commercial historical resource, open to all, and has reproduced this document as an accessible digital reference. Copyright remains with its original authors. If used on other sites, we would appreciate a link back and reference to The Irish Left Archive, in addition to the original creators. For re-publication, commercial, or other uses, please contact the original owners. If documents provided to The Irish Left Archive have been created for or added to other online archives, please inform us so sources can be credited.
Commentary From The Cedar Lounge Revolution
12th September 2011
Another very interesting edition of The Bottom Dog. As with the previous one posted in the Archive this covers a broad range of topics from the nature of the recession then prevalent and the necessity for workers to unite with 'their only ally' their fellow workers, an article on a group formed in Limerick to provide a Family Planning clinic, a short piece from the Secretary of Killoscully Land League, and a longer article on the strike in Callins.
There's also an article on Staff Associations, or 'company unions' which notes that those who critique mainstream unions and 'do not believe they will get value for their money if they join a union' 'unfortunately can be right'. That said it notes that during strikes union membership makes considerably greater sense. It argues that' as a defensive instrument unions are still the best workers have come up with'. Added to this is a piece on 'Stewards Training Courses' which retains the somewhat sceptical tone towards union structures while seeing utility in them.
There's a report from 'North Munster Flying Column' on 'Labour – the New Tories!' and the last page looks at Joe Hill, legendary US union organiser, shot by a firing squad in 1915.
More from The Bottom Dog
---