Do We Need A Political Revolution?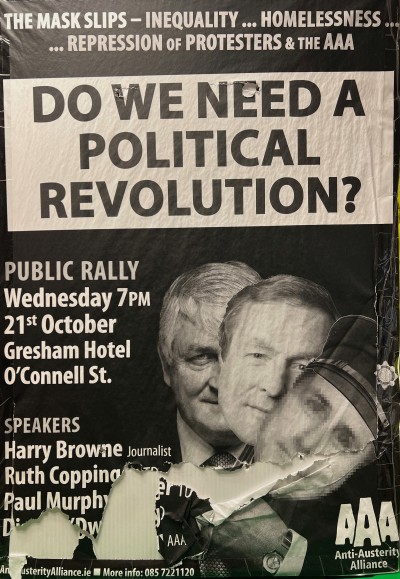 Date:
2015
Organisation:

Anti-Austerity Alliance

View:
View Document
Front text:

The mask slips – inequality … homelessness … repression of protestors & the AAA

Do We Need A Political Revolution?

Public Rally Wednesday 7pm 21st October Gresham Hotel O'Connel St.

Speakers:
Harry Browne, journalist
Ruth Coppinger, TD
Paul Murphy […]
[…]

AntiAusterityAlliance.ie

Discuss:
Comments on this document
Subjects:
 
Please note:  The Irish Left Archive is provided as a non-commercial historical resource, open to all, and has reproduced this document as an accessible digital reference. Copyright remains with its original authors. If used on other sites, we would appreciate a link back and reference to The Irish Left Archive, in addition to the original creators. For re-publication, commercial, or other uses, please contact the original owners. If documents provided to The Irish Left Archive have been created for or added to other online archives, please inform us so sources can be credited.
Commentary From The Cedar Lounge Revolution
27th March 2023
Many thanks to the person who forwarded this to the Archive.
This poster adds to the collection of materials from the Anti-Austerity Alliance already held in the Archive.
More from Anti-Austerity Alliance
Anti-Austerity Alliance in the archive
---