Armagh/H-Block News, Vol 1. No. 3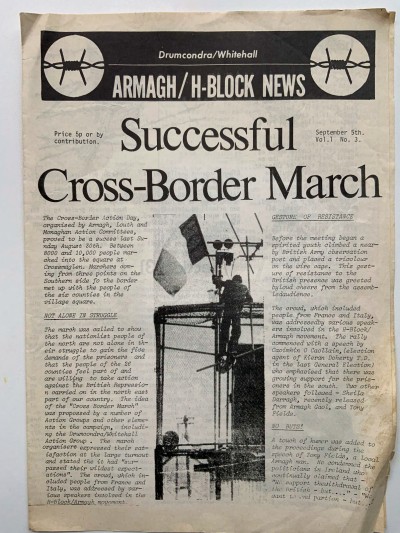 Please note:  The Irish Left Archive is provided as a non-commercial historical resource, open to all, and has reproduced this document as an accessible digital reference. Copyright remains with its original authors. If used on other sites, we would appreciate a link back and reference to The Irish Left Archive, in addition to the original creators. For re-publication, commercial, or other uses, please contact the original owners. If documents provided to The Irish Left Archive have been created for or added to other online archives, please inform us so sources can be credited.
Commentary From The Cedar Lounge Revolution
5th September 2022
This document was issued by Drumcondra/Whitehall Action Group, a section of the Armagh/H-Block Action Group, associated with the Communist Party of Ireland (Marxist-Leninist). The publications of the Action Group were often included in CPI (M-L) publications.
The document leads with an article publicising a 'Successful Cross-Board March'.
The Cross-Border Action Day, organised by Armagh, Louth and Monaghan Action Committees, proved to be a success last Sunday Augsut 20th. Between 8,000 and 10,000 people marched into the square at Crossmaglen. Marchers coming from three points on the Souther side of the border met up with the people of the six counties in the village square.
Other pieces include articles in Irish, another on Section 31 Censorship (asserting that the 'Government is coming under increasing pressure to abolish Section 31 of the Broadcasting Authority Act'), 'Police Harassment', 'Hunger Strike News' and a note about how:
This news sheet is produced by the Drumcondra/Whitehall Action Group. We are a non-party-political group campaigning to secure the five demand fo the H-Block and Armagh Prisoners. The purpose of this bulletin is to provide a counter to the deceptive and lying propaganda being organised by the state on the H-Block issue.
The last page has a poem written by 'an Action Group member' on Bobby Sands.
More from Armagh / H-Block News
Armagh / H-Block News in the archive
---