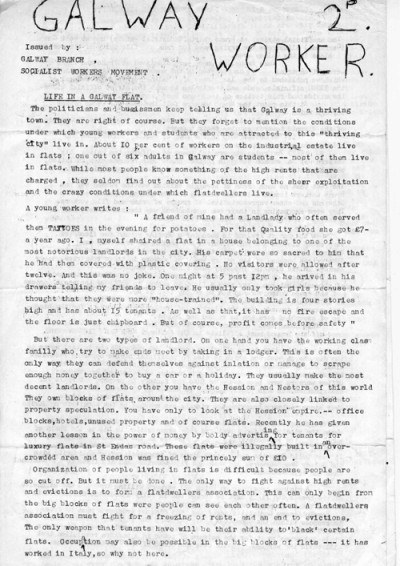 Please note:  The Irish Left Archive is provided as a non-commercial historical resource, open to all, and has reproduced this document as an accessible digital reference. Copyright remains with its original authors. If used on other sites, we would appreciate a link back and reference to The Irish Left Archive, in addition to the original creators. For re-publication, commercial, or other uses, please contact the original owners. If documents provided to The Irish Left Archive have been created for or added to other online archives, please inform us so sources can be credited.
Commentary From The Cedar Lounge Revolution
14th June 2010
Many thanks to Mark P for forwarding this document which was produced by the Galway branch of the Socialist Workers' Movement. It's a brief four page leaflet, hand typed and dealing with issues like redundancies, the Westcon Ltd. Dispute and Life in a Galway Flat.
What is most immediately striking is the emphasis on local issues to the exclusion of all else - remarkable given the period of time in which it was produced. This doesn't incorporate to any great extent a theoretical analyses or even make much reference to broader political issues on the island. That said it does contain the following outline of an approach:
A Coisti Oibri na Gaeltachta [which] must be formed as a priority… it must build form the start close links of practical active solidarity with the Galway Shop Stewards and rank and File Committee and affiliate to the National Rank and File Movement. A minimum program on which all workers willing to go on the offensive [to]? The bosses can fight must be worked out in fully democratic discussions to become the basic program of these Committees. Revolutionary Socialists accepting this minimum program must be free to propose within the Committees their strategy for fighting all the basic issues facing the working class in such a way as to mobilize the class as a whole and organize it for the seizure of power in a workers revolution that will build the workers Republic over the bones of the Capitalist Class.
And it stands as a contrast to the more polished documents issued by the Socialist Workers' Movement during and after this period.
More from Socialist Workers' Movement
Socialist Workers' Movement in the archive
---