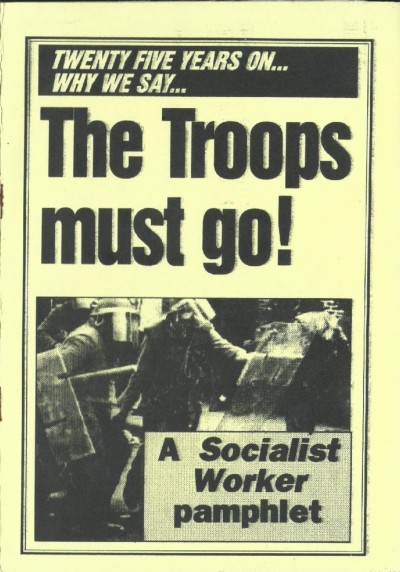 Please note:  The Irish Left Archive is provided as a non-commercial historical resource, open to all, and has reproduced this document as an accessible digital reference. Copyright remains with its original authors. If used on other sites, we would appreciate a link back and reference to The Irish Left Archive, in addition to the original creators. For re-publication, commercial, or other uses, please contact the original owners. If documents provided to The Irish Left Archive have been created for or added to other online archives, please inform us so sources can be credited.
Commentary From The Cedar Lounge Revolution
30th December 2019
Many thanks to the person who forwarded this to the Archive.
This document from the SWP from 1994 is a short but concise overview of their perspective on the the twenty fifth anniversary of the arrival of British troops on the streets of Northern Ireland.
It notes:
At 5pm on August 14th, 1969, British troops were ordered onto the streets of Derry. The next day it was the turn of Belfast. A Whitehall spokesperson said they would be out by the weekend. A quarter of a century they are still there.
It examines the Civil Rights marches, the role of the British Army in Northern Ireland, Collusion and it has a section 'The Army Against Workers'. It examines and criticises the role of the IRA – 'after twenty years of armed struggle it is clear that the Provo's campaign has won nothing for most Catholics'.
It continues to call for Troops Out and argues in its conclusion in favour of The Socialist Solution.
More from Socialist Workers' Movement
Socialist Workers' Movement in the archive
---