Songs of the Workers
A Socialist Party Publication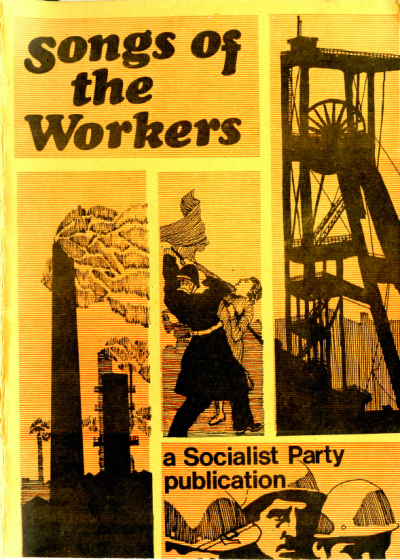 Please note:  The Irish Left Archive is provided as a non-commercial historical resource, open to all, and has reproduced this document as an accessible digital reference. Copyright remains with its original authors. If used on other sites, we would appreciate a link back and reference to The Irish Left Archive, in addition to the original creators. For re-publication, commercial, or other uses, please contact the original owners. If documents provided to The Irish Left Archive have been created for or added to other online archives, please inform us so sources can be credited.
Commentary From The Cedar Lounge Revolution
12th August 2013
This pamphlet was published the SPI  in 1975. As noted in the Introduction:
The songs reproduced in this book show various aspects of the continuing struggle between the working class and the capitalists, whether employers or landlords. The SP believes that the international nature of the workers' struggle needs particular emphasis in Ireland today, where so many organisations exist, who would again lead us into the blind alley of nationalism.
And it continues:
The fight for socialism, for human rights and decent standards is international. As James Connolly said - "the workers of all countries are my fellow patriots, the capitalist of my own country is my natural enemy".
And concludes:
Music and songs have an important part to play in the battle for socialism. They are invaluable in building confidence and strengthening class solidarity as well as in combating the attitudes of the exploiters.
Many of the songs are accompanied by brief explanations as to their historical and political provenance and the selection is wide.
Appendix: Songs Included
Be Moderate
Dump the Bosses Off Your Bback
I am a Union Woman
The Internationale
James Connolly
Jarama Valley
Joe Hill
The Klan Song
Larkin
Peace and Liberty
Pity the Downtrodden Landlord
The Red Flag
Solidarity Forever
Song of the Future
Song of the Hunger Marchers
Song of the Low
Song to Labour
Sit down
Strike for Better Wages
The Blackleg
The Watchword of Labour
Willie Browne
We Shall Not Be Moved
More from Socialist Party of Ireland [1971]
Socialist Party of Ireland [1971] in the archive
---