Clár: Anti-Imperialist Festival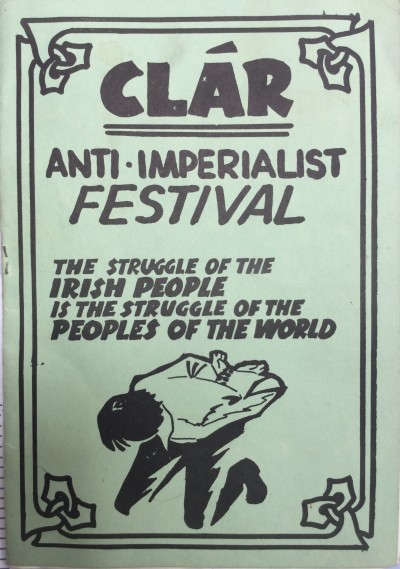 Please note:  The Irish Left Archive is provided as a non-commercial historical resource, open to all, and has reproduced this document as an accessible digital reference. Copyright remains with its original authors. If used on other sites, we would appreciate a link back and reference to The Irish Left Archive, in addition to the original creators. For re-publication, commercial, or other uses, please contact the original owners. If documents provided to The Irish Left Archive have been created for or added to other online archives, please inform us so sources can be credited.
Commentary From The Cedar Lounge Revolution
4th April 2022
Many thanks to the person who forwarded this to the Archive.
This is a fascinating document that includes a letter from Tomas Mac Giolla, President of Sinn Féin, the schedule for the Festival:
I welcome all our comrades in struggle to a land which has been steeped in a long and turbulent history of struggle against imperialism.

We hope, through this Festival, to give you a true picture of the factual situation in Ireland. The distorted picture presented by the British propaganda machine is one of a backward people full of hate senseless bombing and murdering each other while the heroic British Arny stands between them to save them from each other.

You now have the opportunity to learn the truth for yourself. In the North of our country you can see Colonialism in its raw state with all its vicious, repressive apparatus of the British Army, UDR (native militia) and RUC (police). You will learn how Britain, throughout our history,deliberately created and fomented the sectarian divisions which today are still helping to keep us in subjection. In the South of our country you will see a classic neo-colonial state. All the outward-symbols of freedom exist -a constitution, a parliament, an army, a flag and an anthem. But there it ends. The real power lies in London.

You will see us as we are. You will learn of our problems and you will gain some knowledge of our methods of struggle. We are deeply in­debted to you for your great help to us in the past. We are aware that without your help in the future we cannot win. This festival is mostly about the Brotherhood of man and the common struggle against imperialist exploitation. The struggle of the Irish people is the struggle of.the peoples of the world. Our fight is your fight. Your fight is our fight.
The Clár notes a range of events in the Festival, including,
"Analysis of Irish History", Economic and Cultural Domination of British Imperialism in Ireland", "The Political Effects of British Imperialism in Ireland.", "The role of the Irish Republican Movement: Its History and Future", 'British Terror in Northern Ireland" and "The Struggles of the Irish People is the Struggle of the World". A range of speakers were involved: Dessie O'Hagan, Malachy McGurran, Eamonn Smullen, Seamus Lynch, Mairin de Burca, Padraigh O Snodaigh. Some of the more cultural events included a play "Ulysses in Nightown", the showing of an "Irish revolutionary film" and a "Workers Concert" as well as an exhibition. There were also tours of Kilmainham Jail, TCD and Old Dublin.
There's also a message from Republican Prisoners which includes the following:
Greetings to you, comrades, from behind the barbed wire of Britain's concentration camp at Long Kesh and Belfast, Armagh, Mountjoy, Portlaoise and English prisons. We who are deprived of our freedom by British Imperialism are encouraged by your visit. You will see the naked force of Imperialism in action. Let it not deter you from fightinq it.
More from Sinn Féin [Official]
Sinn Féin [Official] in the archive
---