Towards the Socialist Republic
Outline policies of Sinn Féin 30 Gardiner Place Dublin 1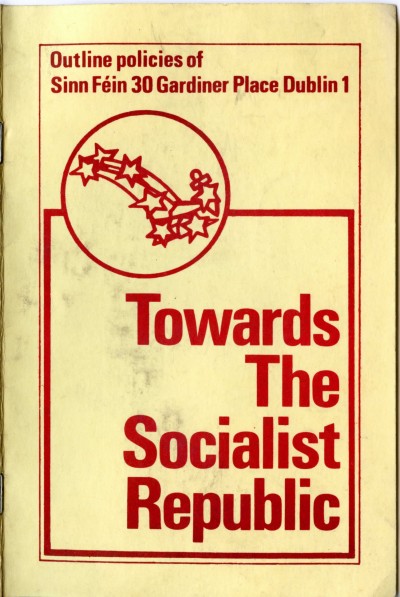 Please note: The Irish Left Archive is provided as a non-commercial historical resource, open to all, and has reproduced this document as an accessible digital reference. Copyright remains with its original authors. If used on other sites, we would appreciate a link back and reference to the Irish Left Archive, in addition to the original creators. For re-publication, commercial, or other uses, please contact the original owners. If documents provided to the Irish Left Archive have been created for or added to other online archives, please inform us so sources can be credited.
Commentary From The Cedar Lounge Revolution
17th April 2017
Many thanks to Bobcat for forwarding this and other documents to the Archive.
This relatively brief document offers a very brief overview of Official Sinn Féin policy in the mid to late 1970s. The introduction notes that:
These notes are… produced in the hope that they will rouse the reader's interest sufficiently to encourage him to seek and study the detailed SF policies which are available in booklet form, a list of which are printed inside.
For example reference is made in these notes to "the importance of our natural resources but for the full facts and arguments a reading of the 100 page booklet 'THE GREAT OIL AND GAS ROBBERY' and other similar publications is necessary. In speaking about the North the question of a Police Service is referred but for details of how this service should be constructed and controlled recourse will have to be taken to the booklet 'THE POLICE AND YOU'. "
Inside there are a number of pages of questions and answers, including 'Does Sinn Féin believe in a military solution to the Northern Problem?' and 'Does Sinn Féin believe in majority rule'.
On INTERNATIONAL AFFAIRS the document states:
Sinn Féin recognise that the Socialist Republican political philosophy is an international one and pledges solidarity with the struggling people of the world who are striving for independence, freedom and peace.
More from Sinn Féin [Official]
Sinn Féin [Official] in the archive
---