Freedom Struggle, Vol. 1, No. 1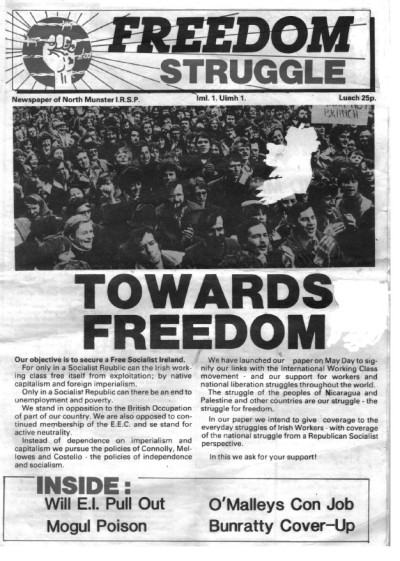 Please note:  The Irish Left Archive is provided as a non-commercial historical resource, open to all, and has reproduced this document as an accessible digital reference. Copyright remains with its original authors. If used on other sites, we would appreciate a link back and reference to The Irish Left Archive, in addition to the original creators. For re-publication, commercial, or other uses, please contact the original owners. If documents provided to The Irish Left Archive have been created for or added to other online archives, please inform us so sources can be credited.
Commentary From The Cedar Lounge Revolution
9th April 2012
This document, published by the North Munster Irish Republican Socialist Party, is a very useful addition to the Archive and many thanks to M. Ahern for scanning it for and forwarding it to the Archive. As he notes:
Freedom Struggle was produced in 1985 in Limerick City. It was produced by the Costello faction within the IRSP led by many original members of the party who felt that the time had come to fight back against the Maoist politics favoured by some of the leadership. Hence the reference to the politics of Connolly, Mellowes and Costello. The first and only issue was very popular in North Munster. The main reason as to why only one issue was that at that time  the Costello faction came under vicious attack by an armed element – nicknamed the Polpot Brigade -  wanting to control the INLA . They saw the continued existence of the Costello wing as a threat to their plans. These were the attacks by the O'Reilly wing of the INLA on the remnants of the original INLA whom they saw as a potential threat.( See INLA: Deadly Divisions by Jack Holland and Henry McDonald; 1994.). Among the attacks were an armed attack on Gerry Roche near Shannon, Co. Clare;, an attempt to kill Harry Flynn in Dublin and the abduction and murder of Seamus Ruddy in Paris.
Just to add to that overview, the scope of articles in the document is very broad, from statements on the political orientation of the IRSP, through to issues of interest to those in Munster and those further afield such as the situation facing Armagh Women Prisoners. And given the obvious constraints on the the actual production values are high. M. Ahern notes that:
[The Bottom Dog] had a different production team centred around Joe Harrington. Freedom struggle was produced by the IRSP locally - only a few of whom had contributed to The Bottom Dog at the time it was produced. The production values had more to do with Starry Plough experience and layout development learned from cartoonist/graphic artist  Phil Evans formerly of London IS/SWP. 
More from Irish Republican Socialist Party
Irish Republican Socialist Party in the archive
---