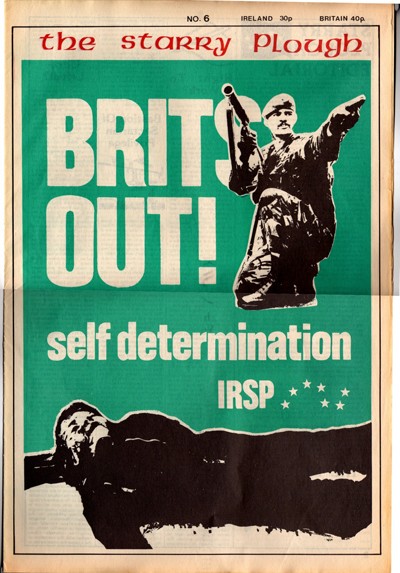 Please note:  The Irish Left Archive is provided as a non-commercial historical resource, open to all, and has reproduced this document as an accessible digital reference. Copyright remains with its original authors. If used on other sites, we would appreciate a link back and reference to The Irish Left Archive, in addition to the original creators. For re-publication, commercial, or other uses, please contact the original owners. If documents provided to The Irish Left Archive have been created for or added to other online archives, please inform us so sources can be credited.
Commentary From The Cedar Lounge Revolution
19th September 2007
A further addition to the Left Archive from Ciarán  of Crá Croí Cois Cuain who scanned in this newspaper issued by the IRSP (Irish Republican Socialist Party) - readers of a nervous disposition be warned!
As Ciarán writes:
I happened across this copy of the Starry Plough from 1989, and a few other from the period, while I was going through the attic of Costello House in Belfast with an Irp friend a few years ago.
I suppose the first thing that really struck me about the paper was the quality of it; it was produced just two years after one of their "internecine feuds" and while they generally seem to have been considered dormant until the 1996 feud, I was surprised that they were active in a sense because the paper does come across as fairly vibrant.
You've got articles on the state of the education system in the twenty-six counties and cutbacks in the health service in the six counties alongside an article entitled "Brits Out Now!" and an article on the fight for socialism in China. There are debates in the letter pages on how to address loyalist workers and on the Time to Go campaign in Britain. A piece on the history of the Starry Plough flag alongside pieces on the RUC and UDR running amok. And through it all you've got attacks on the CPI, SWP, WP and the Provisionals any and every time the chance arises.
This arises in the centre-page spread on the Marxist approach to violence. The piece is interesting in itself as an analysis of how Marx and Marxists in the past dealt with the question, but they also defend themselves against the misuse of Lenin or Trotsky's writings (especially when it comes to individual terrorism) by their left-wing critics.
Again, if it's accepted that the Irps and the INLA were not particularly active in this period, I think this paper from the time gives an interesting insight into the views of a party that then referred to itself as Marxist-Leninist in a time of great change for socialism internationally.
(The Left Archive is intended to be an archive of printed material from the public domain relating to parties and political formations on the Irish Left. All materials are intended to be freely available for download in PDF format. All donations of printed material to the Left Archive gratefully accepted and will of course be noted publicly and can be accompanied by discursive pieces on the provenance of the material)
More from The Starry Plough [IRSP]
The Starry Plough [IRSP] in the archive
---