Oil Wars Episode II: Clone of the Attack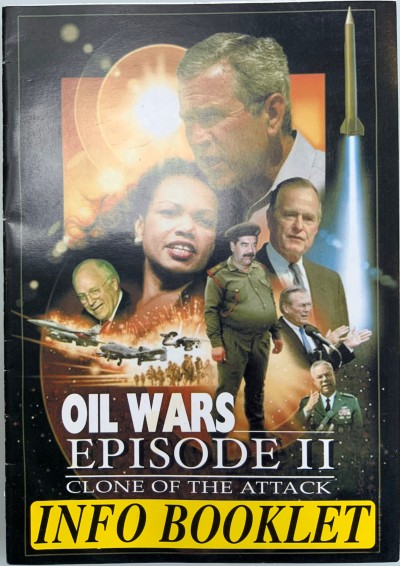 Please note:  The Irish Left Archive is provided as a non-commercial historical resource, open to all, and has reproduced this document as an accessible digital reference. Copyright remains with its original authors. If used on other sites, we would appreciate a link back and reference to The Irish Left Archive, in addition to the original creators. For re-publication, commercial, or other uses, please contact the original owners. If documents provided to The Irish Left Archive have been created for or added to other online archives, please inform us so sources can be credited.
Commentary From The Cedar Lounge Revolution
29th November 2021
Many thanks to the person who donated this to the Archive.
This document from 2003 was published by Ógra Sinn Féin before the invasion of Iraq by the United States and a small number of other states. The document reprints the United Nations Charter before an Introduction which argues that the invasion of Iraq is 'control of Iraq's lucrative oil fields. Nothing more, nothing less'.
And it argues that the invasion is a 'clone of the first [1991] attack'.
The document goes on to argue that the basis for any invasion lacks any proof 'that Saddam Hussein has nuclear weapons'. It points to the support provided by the United States in the 1980s for the regime. It also notes:
War on Iraq is imperialist conquest dressed up as a crusade for human rights. It is morally and ethically wrong to support it and it is a violation of Irish neutrality and simple human decency to assist the American and British governments in murdering hunters of thousands of Iraqi people.
The document also lists 'humanitarians interventions' by the UK and US including Panama, Somalia, Sudan, Palestine and Afghanistan. It also examines 'America's Weapons of Mass Destruction'.
More from Ógra Shinn Féin
Ógra Shinn Féin in the archive
---