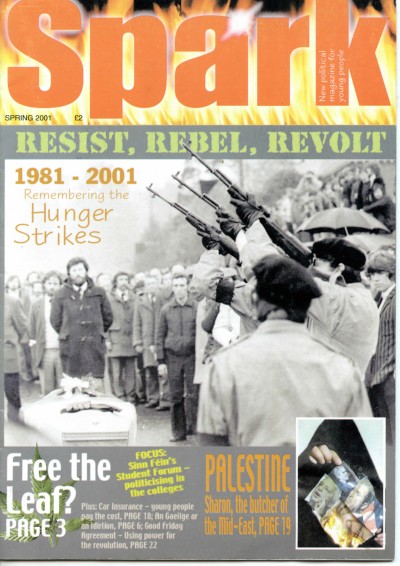 Please note:  The Irish Left Archive is provided as a non-commercial historical resource, open to all, and has reproduced this document as an accessible digital reference. Copyright remains with its original authors. If used on other sites, we would appreciate a link back and reference to The Irish Left Archive, in addition to the original creators. For re-publication, commercial, or other uses, please contact the original owners. If documents provided to The Irish Left Archive have been created for or added to other online archives, please inform us so sources can be credited.
Commentary From The Cedar Lounge Revolution
30th January 2019
Many thanks to the person who forwarded this to the Archive.
This is the first issue of Spark and the second to be added to the Archive. A 28 page publication produced by Sinn Féin and explicitly positioned as the slogan on the heading notes as a 'new political magazine for young people'. The introduction by editor Michael Pierse notes that:
Spark has been compiled by a group fo young republicans who have perceived fro some timothy need for a radical, revolutionary forum for written political debate, opinion and information for young people.
And it continues:
Youth culture today, unlike that of the past, is possibly as confusing to young people as it is to their parent's generation. We are refered to as Generation X, as if we are lost in some indistinguishable limbo – oblivious to political life.
And it argues:
More young people are becoming aware of the effects of global capitalism on our lives toad the oppression it causes internationally… though the potential for radical youth politics in Ireland cannot be over-estimated, there is definitely space for development.
The contents is wide-ranging, from an examination of the Sinn Féin Students Forum, thorough to the legalisation of cannabis, 'Globalisation explained', a Hunger Strike Commemoration Poster and pieces on Stormont and the GFA/BA.
More from Spark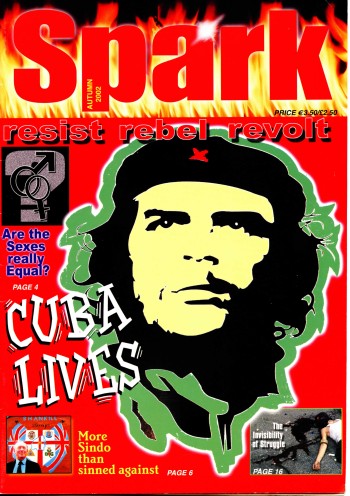 ---