Civil Divorce is a Civil Right – Vote Yes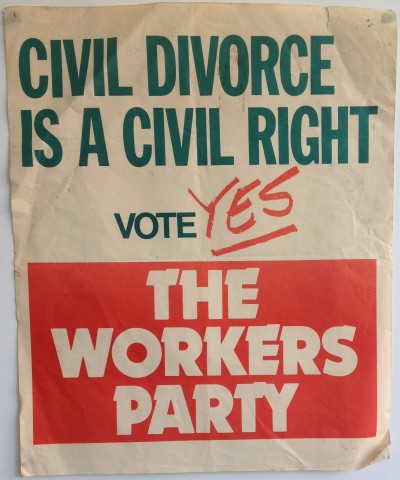 Please note:  The Irish Left Archive is provided as a non-commercial historical resource, open to all, and has reproduced this document as an accessible digital reference. Copyright remains with its original authors. If used on other sites, we would appreciate a link back and reference to The Irish Left Archive, in addition to the original creators. For re-publication, commercial, or other uses, please contact the original owners. If documents provided to The Irish Left Archive have been created for or added to other online archives, please inform us so sources can be credited.
Commentary From The Cedar Lounge Revolution
18th September 2014
"Civil Divorce is a Civil Right - Vote Yes", from 1986.
The text of the amendment was as follows:
The Tenth Amendment of the Constitution Bill, 1986, proposes –

to delete subsection 2° of Article 41.3 of the Constitution, which states that no law shall be enacted providing for the grant of a dissolution of marriage, and to substitute the subsection here following:

2° Where, and only where, such court established under this Constitution as may be prescribed by law is satisfied that:

i. a marriage has failed,
ii. the failure has continued for a period of, or periods amounting to, at least five years,
iii. there is no reasonable possibility of reconciliation between the parties to the marriage, and
iv. any other condition prescribed by law has been complied with,

the court may in accordance with law grant a dissolution of the marriage provided that the court is satisfied that adequate and proper provision having regard to the circumstances will be made for any dependent spouse and for any child of or any child who is dependent on either spouse.
As noted here it was defeated :
No 935,843 63.48
Yes 538,279 36.52
It would not be until 1996 that the prohibition was finally overturned by the Fifteenth Amendment .
If you have more posters from the Irish Left (or relating to Ireland from political parties or formations or campaigns abroad) from any period, whether issue led, party promotional, campaigning or such like please don't hesitate to contact us. We'd be glad to post them online as part of this section.
More from The Workers' Party
The Workers' Party in the archive
---