Dublin Regional Council: Regional Party Development Proposals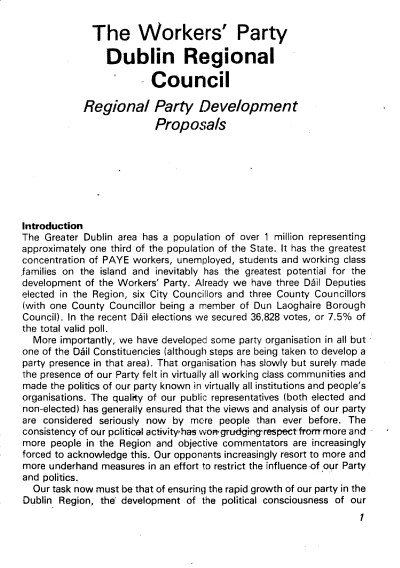 Please note:  The Irish Left Archive is provided as a non-commercial historical resource, open to all, and has reproduced this document as an accessible digital reference. Copyright remains with its original authors. If used on other sites, we would appreciate a link back and reference to The Irish Left Archive, in addition to the original creators. For re-publication, commercial, or other uses, please contact the original owners. If documents provided to The Irish Left Archive have been created for or added to other online archives, please inform us so sources can be credited.
Commentary From The Cedar Lounge Revolution
4th September 2017
This document, eight pages long contains a number of proposals for developing and growing the Workers' Party. It notes that:
…the Greater Dublin area has a population of over 1 million representing approximately one third of the population of the State. It has the greatest concentration of PAYE workers, unemployed, students and working class families on the island and inevitably has the greatest potential for the development of the WP. Already we have three Dáil Deputies elected in the Region, six City Councillors and three County Councillors (with one County Councillor being a member of Dun Laoghaire Borough Council). In recent Dáil elections we secured 36,828 votes, or 7.5% of the total valid poll.
The document considers a range of areas, from branch officerships ('all officerships must be filled and all work functions undertaken as efficiently as possible'), Constituency Councils, Workers' party Youth, Women Officers, Party Finance and Administration, Recruitment and the Irish People publication.
It also notes the centrality of Party Campaigns as 'the key to expansion and growth'.
More from The Workers' Party
The Workers' Party in the archive
---