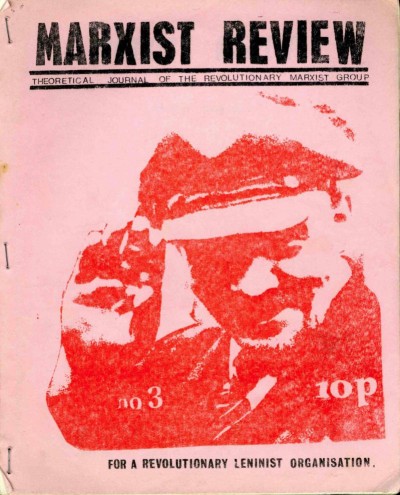 Please note:  The Irish Left Archive is provided as a non-commercial historical resource, open to all, and has reproduced this document as an accessible digital reference. Copyright remains with its original authors. If used on other sites, we would appreciate a link back and reference to The Irish Left Archive, in addition to the original creators. For re-publication, commercial, or other uses, please contact the original owners. If documents provided to The Irish Left Archive have been created for or added to other online archives, please inform us so sources can be credited.
Commentary From The Cedar Lounge Revolution
19th July 2010
This document, very kindly donated to the Archive by Mark P and the Socialist Party, is of particular interest. We've already considered some material from the Revolutionary Marxist Group, but this expands upon their analysis and during a period of particular change on the further left on the island.
Just to briefly refresh memories, the Revolutionary Marxist Group was, as previously noted:
…an intriguing Trotskyist formation on the Irish left from the 1970s. Never very large it consisted of former members the League for a Workers Republic and Young Socialists.
The contents of this particular document is broad ranging, with essays on 'The Leninist theory of Party Organisation' by James Conway, 'Connolly and the Revolutionary Party' by D.R O'Connor Lysaght, 'Class Consciousness and the Leninist Party' by Ernest Mandel and 'Once More - Trotsky on Ireland' by James Conway.
Each is of specific interest in providing a sense of the discussions within the RMG and it's position as regard other formations. The first engages with the issue of discipline, democracy, factions and so on within the context of the Leninist model of party organisation.
The second considers issues of Connolly and the revolutionary party in conjunction with a critique of the analyses of the British and Irish Communist Organisation.
The third is a reprint of an Ernest Mandel speech while the fourth also engages in part with BICO and the ICO.
Apologies for the quality of the scans. The original was printed in red ink and is very faint in parts.
More from Revolutionary Marxist Group
Revolutionary Marxist Group in the archive
---