What is the Connolly Association?
Constitution and Explanation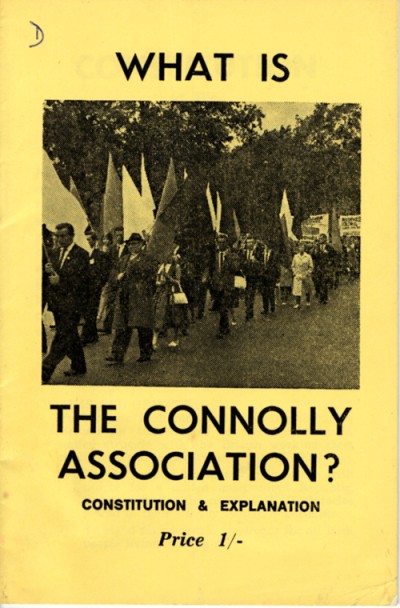 Please note:  The Irish Left Archive is provided as a non-commercial historical resource, open to all, and has reproduced this document as an accessible digital reference. Copyright remains with its original authors. If used on other sites, we would appreciate a link back and reference to The Irish Left Archive, in addition to the original creators. For re-publication, commercial, or other uses, please contact the original owners. If documents provided to The Irish Left Archive have been created for or added to other online archives, please inform us so sources can be credited.
Commentary From The Cedar Lounge Revolution
8th March 2010
We'll most of us know of the Connolly Association  and Irish Self-Determination League. An organisation  of considerable significance in the course of Irish Republicanism. Founded in 1938 as the Connolly Club, the Association was the product of the merger of a number of Irish groups based in London. The aim was to organise Irish men and women in Britain:
…for the defence of their interests, in the united struggle with the British working class movement and in particular - To win support for the struggle of the Irish people for a united independent Republic, and to fight for the removal of all obstacles placed in their way by British imperialism.
And also:
To stand for equitable treatment for all Irish people living in Ireland.
Luminaries of the Connolly Association included Roy Johnston, C. Desmond Greaves and Anthony Coughlan. It's activities were not restricted to Britain. During the civil rights march of October 1968 members of the Connolly Association were in Derry. As indeed were they at most of the key points during the late 1960s and after. Many will be familiar with The Irish Democrat.
Needless to say it is still extant, its position one of support for the Good Friday Agreement while still lobbying for reunification. It regards itself as a left Republican organisation.
This Constitution and Explanation is an interesting document. Consider the section on party politics and affiliations to the Association. Note also the 'Explanation' which in a discursive fashion notes:
Sometimes somebody writes in to ask 'is the Connolly Association Socialist'. They can get confused when they don't get a simple answer. You do not have to sign a declaration that you support socialism in order to be a member - though you have to support an independent Irish republic of 32 counties. The whole outlook policy and work of the Association is informed by Socialist ideas. But it is not dogmatic. Many good Irish Republicans agree with some socialist ideas and disagree with others. These days socialism is fashionable. There are many people whose ideas are as different from Connolly's as chalk from cheese who proclaim themselves socialists. The Association is not interested in people's consciences. It is interested in what they do. No republican who agrees with what the Connolly Association is doing and wants to forward it is going to be refused admission because he isn't a socialist and his family votes Fianna Fáil! And any real socialist will welcome him. And those who will not the Connolly Association does not want.
Well worth a read.
More from Connolly Association
Connolly Association in the archive
---