Orangeism - Myth and Reality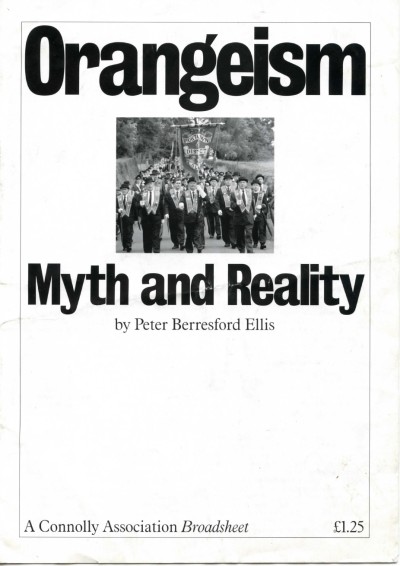 Please note:  The Irish Left Archive is provided as a non-commercial historical resource, open to all, and has reproduced this document as an accessible digital reference. Copyright remains with its original authors. If used on other sites, we would appreciate a link back and reference to The Irish Left Archive, in addition to the original creators. For re-publication, commercial, or other uses, please contact the original owners. If documents provided to The Irish Left Archive have been created for or added to other online archives, please inform us so sources can be credited.
Commentary From The Cedar Lounge Revolution
19th January 2015
Many thanks to the person who forwarded this to the Archive.
This document adds to the materials the Archive has from the Connolly Association. This ten page document from 1995 reprints the text of a lecture delivered at the 7th Desmond Greave's Summer School a the Irish labour History Museum, Beggars Bush Barracks, Dublin in that year.
The lecture gives an over-view of the history of the Orange Order from its foundation through to the present day. Berresford Ellis is quick to point out that:
when we talk about the Orange Order we are not speaking of a movement whose philosophies have been cast in stone from the moment of its creation. Its attitudes and intentions have changed over the years. Initially it was an exclusively Anglican organisation, firstly an an anti-unionist movement and only subsequently a pro-unionist force.
He also suggests that:
Today we are asked to believe that the Order has now changed into some folkloric institution, content to bang drums, wear sashes and uphold the traditional of a 'Protestant Culture' whatever one may mean by this. We are told by Orange Order grandees like Rev Martyn Smythe that, I quote, 'It is not an anti-Catholic body – there is nothing provocative about it'.
And he concludes:
For this historian, there is a sadness that a people can be so utterly manipulated by a misunderstanding of history. Instead of being shown the reality of a common past, the Protestants of Ulster have been deliberately subverted into believing a mythological history. Their view of William of Orange and the Boyne Water is a dream of a world which never existed. The worst thing is that, lacking the knowledge of the realities of the common past shared with their fellow Irishmen and women, they are still disputing the realities of the present.
More from Connolly Association
Connolly Association in the archive
---