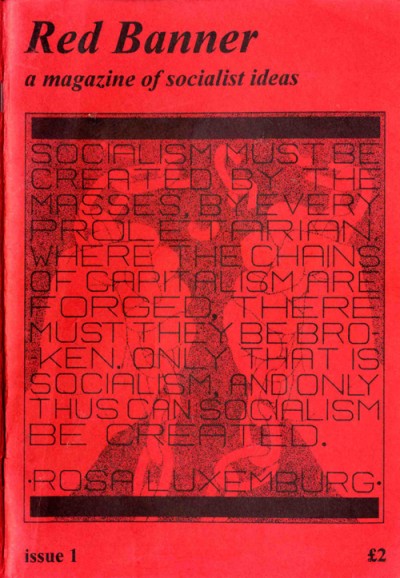 Please note:  The Irish Left Archive is provided as a non-commercial historical resource, open to all, and has reproduced this document as an accessible digital reference. Copyright remains with its original authors. If used on other sites, we would appreciate a link back and reference to The Irish Left Archive, in addition to the original creators. For re-publication, commercial, or other uses, please contact the original owners. If documents provided to The Irish Left Archive have been created for or added to other online archives, please inform us so sources can be credited.
Commentary From The Cedar Lounge Revolution
1st March 2010
Here's an interesting one. Red Banner, 'a revolutionary socialist magazine' for those who 'are sick of the way the world is run…. We intend to present socialist ideas to as many people as we can, and to develop and apply those ideas to the needs of the struggle for socialism today. It is our belief that struggle requires a clear understanding of its situation, of its history, of the conditions of its victory'.
Noting that 'Capitalism every day proves itself to be incapable of resolving the basic problems facing humanity' it also allows that 'just as obvious… Is the failure of the left, thus far, to get rid of it. There is no use denying it: there are too many on the left who see the struggle in terms of their own narrow organisational success, and not enough whose main concern is the strength and fighting consciousness of the working class. Red Banner has no illusions whatsoever that it is destined to form some revolutionary vanguard, but we are convinced that a powerful socialist movement can be built by the working classes themselves.'
And it continues…
The rainforests are in bad enough shape as it is, so we won't be wasting paper with appeals to seek salvation in the election of nice politicians, or in the ascendancy of benevolent dictators. We stand for the workers of the world independently and self-consciously taking control. But we wont' be resorting to censorship and heresy hunting to put our views forward. Only those unsure of their politics need gunboats in the bay to enforce an intellectual monopoly for their product We, on the other hand, have enough confidence in the strength of revolutionary socialist politics to believe that they will win through and grow stronger in the free competition of ideas.
The contents are an eclectic mix, with contributions from Joe Conroy, Mick Doyle, Rosanna Flynn and others, including The Myth of Michael Collins by one Brian Hanley. Well worth a read. And also worth noting that it is still going strong.
More from Red Banner
---