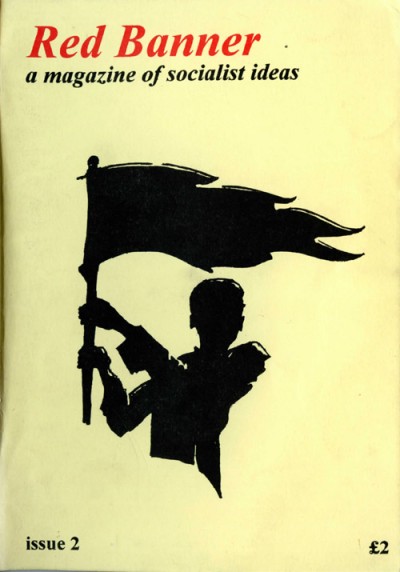 Please note:  The Irish Left Archive is provided as a non-commercial historical resource, open to all, and has reproduced this document as an accessible digital reference. Copyright remains with its original authors. If used on other sites, we would appreciate a link back and reference to The Irish Left Archive, in addition to the original creators. For re-publication, commercial, or other uses, please contact the original owners. If documents provided to The Irish Left Archive have been created for or added to other online archives, please inform us so sources can be credited.
Commentary From The Cedar Lounge Revolution
10th August 2015
Thanks to Jim Monaghan for forwarding this to the Archive.
This edition of Red Banner magazine from 1998 joins the first edition in the Archive. As it notes in the Introduction:
We open this second issue of Red Banner with a confession of our conservatism: our aim is exactly the same as it was before. We are still committed to spreading and developing the ideas of socialism, and thus strengthening the movement towards socialist revolution. The last six months have only piled up further reasons to send capitalism down the road: the racist persecution and deportation of refugees has escalated, politicians continue to line their already bulging pockets, and imperialism bent over backwards to pull us all to the bring of a third world war.
It continues:
We have been genuinely heartened by the welcome Red Banner has received. We thank all those who have expressed their support in various ways for an unashamed magazine of socialist ideas. This support has not been uncritical – but nor would we wish it to be. We have stubbornly refused to claim a monopoly of socialist knowledge: we want other socialists to play a part in our work, to correct our mistakes, to improve and build on what we have done.
And it further continues:
On the other hand, the reaction of some on the left to the appearance of Red Banner has been instructive, to say the least. Some have read us from the altar and warned their flocks against reading our immoral literature… others have lamented that we haven't forsaken an absurdity which is logical and coherent to embrace one which is illogical and incoherent. Nowhere have we seen the leap of imagination necessary if the left is to grow out of its internal obsessions and play a constructive part in the movement of our class. What we have seen, however, are groups taking our opposition to sectarianism as an attack on themselves…
The contents is eclectic, with a piece on 'The taming of Jim Larkin' by Des Derwin, a contribution to the legalisation or criminalisation debate on drugs by Eve Morrison. There are other pieces on the fight for abortion rights and the Euro. A consideration of Revolutionary Lives looking at Antonio Gramsci and Brian Hanley considers Fianna Fáil and the IRA: Lessons from the 1930s. Tomás Mac Siomóin looks at Future Shock and fabhalscéalta eile while Mick Doyle considers 'Working class fool; Workers in the arts and media. The cover is by Michelle McDowell.
More from Red Banner
---