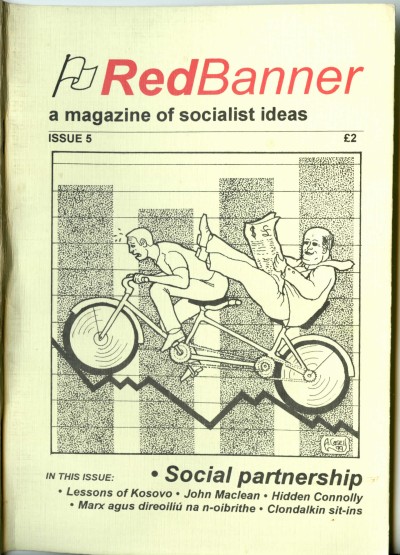 Please note:  The Irish Left Archive is provided as a non-commercial historical resource, open to all, and has reproduced this document as an accessible digital reference. Copyright remains with its original authors. If used on other sites, we would appreciate a link back and reference to The Irish Left Archive, in addition to the original creators. For re-publication, commercial, or other uses, please contact the original owners. If documents provided to The Irish Left Archive have been created for or added to other online archives, please inform us so sources can be credited.
Commentary From The Cedar Lounge Revolution
26th February 2018
Many thanks to the person who forwarded this to the Archive.
This edition of Red Banner joins others already in the Archive.
The editorial notes that:
It is now two years since Red Banner was launched. We expressed the belief back then that it was 'high time something like this magian came along'. That was said more in hope than expectation, but the last two years have proved that it was more than just another vain wish. The magazine has won firm respect for itself amongst socialists in Ireland and beyond.
And it continues:
The formula for Red Banner's success has been simple. It has tired to provide a place where the ideas of socialism could be presented, discussed, developed. A place where this could be done in an interesting and vigorous way. Where it could be done with no hidden agenda, just the clear intent to promote revolutionary socialism.
And:
Too often left-wing publications are trying to sell us something. They tend to tell us not enough about how and why to fight for socialist revolution, and too much about why we should go in for their own particular brand. And the hard sell is all too rarely relieved by anything that might pass for an engaging manner.
It argues that Red Banner should appear more than twice a year and it states that it will from there on appear three times a year. It concludes with the thought:
That Red Banner has come this far is due solely to the support of its readers and writers…. Don't just read Red Banner – subscribe t it, sell more copies of it, write for it…. Most importantly of all, though, the ideas of socialism need to be spread further, deeper and wider within the movements of the working class, so that theory moves into practice.
The editorial notes that the magazine has like the Celtic Tiger seen an increase in demand which has resulted in a supply shortfall. The range of contributors and topics is interesting. Ellen McCann looks at social partnership. Alan MacSimóin puts forward the case for a socialist strategy in the unions. John Maclean, Scottish socialist, is considered by Maeve Connaughton. There is an article by James Connolly – unprinted since his death. There's a further analysis of the conflict in the Balkans by John McAnulty and as the editorial notes 'Aindrias Ó Cathasiagh 'defends Marx against his critics in the light of recent economic history'.
There's one other article of note, the second part of an history of the mid-1980s Clondalkin Paper Mills sit-ins. This was written by Des Derwin and is a comprehensive overview of that strike (the full text can be accessed here) and how it could be regarded as a qualified success. Given that this was a most important event in 1980s Irish left activism it would be very welcome if the previous edition of Red Banner could be forwarded to the Archive for inclusion. And also welcome would be any materials about same or documents or posters mentioning it.
More from Red Banner
---