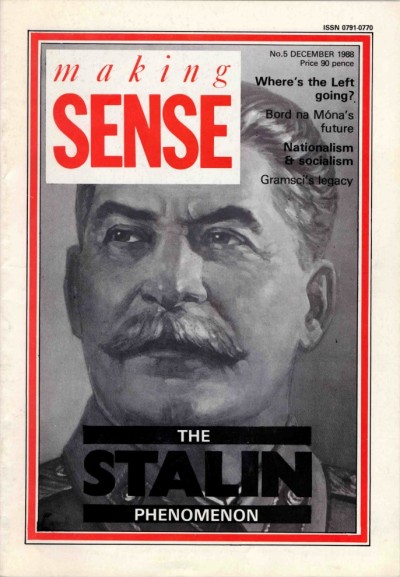 Please note:  The Irish Left Archive is provided as a non-commercial historical resource, open to all, and has reproduced this document as an accessible digital reference. Copyright remains with its original authors. If used on other sites, we would appreciate a link back and reference to The Irish Left Archive, in addition to the original creators. For re-publication, commercial, or other uses, please contact the original owners. If documents provided to The Irish Left Archive have been created for or added to other online archives, please inform us so sources can be credited.
Commentary From The Cedar Lounge Revolution
31st May 2010
This edition of Making Sense, the WP theoretical magazine, dates from December 1988. As such it provides a snapshot of a time of change both within the Workers Party and Soviet Communism. So, despite the image of Stalin on the cover the accompanying article by Dmitry Volkogonov is far from laudatory while pointing to some fundamental issues as regards the position of Stalin within orthodox Communism. Was he aberration, 'wrong man, but at the right time', or what? That this article is written by a Soviet insider points to the changes taking place within that state.
Inside there are a variety of articles including one by Proinsias Breathnach on Bórd na Móna which argues that that organisations 'enterprise-led' approach is worth considering by the Irish left. Senator Brendan Ryan considers the nature of the Irish Left, Colm Breathnach discusses FMLN in El Salvador. There are a wide range of book reviews, including one Fearhal Ross writing about Gramsci and there is an article by Lorraine Kennedy on the opening of the Lighthouse cinema.
There's also a most interesting letter from Paddy Woodworth (a member of the party at one time) which asks a number of pertinent questions which point up some contradictory aspects of certain approaches to the conflict on the island during this period, not least:
On the level of ideology, anti-nationalism in Ireland often appears to be anti-green nationalism, since it rarely challenges the adherence of the Orange community to its British nationalism. Something has gone badly wrong with the balance here. If one side can wave its union jacks and poppies, surely the other can wave its tricolours and Easter lilies…
The editorial has a certain contemporary resonance, in this time of 'reform'. It deals with the Commission on Electoral Boundaries who were given the task of redrawing constituencies and argues that the terms of reference given to the Commission were 'deliberately designed to distort the proportionality and gerrymander an inbuilt Fianna Fáil majority'. For a small party holding onto an electoral niche such matters are of the utmost importance.
… It can be safely assumed that Fianna Fáil and elements in Fine Gael will not let upon in their efforts to undermine PR (Proportional Representation). By hook or by crook they intend to render it ineffective, and thus copperfasten the right-wing consensus.
More from Making Sense
---