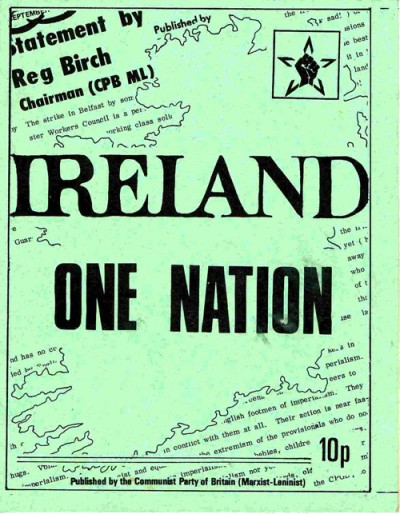 Please note:  The Irish Left Archive is provided as a non-commercial historical resource, open to all, and has reproduced this document as an accessible digital reference. Copyright remains with its original authors. If used on other sites, we would appreciate a link back and reference to The Irish Left Archive, in addition to the original creators. For re-publication, commercial, or other uses, please contact the original owners. If documents provided to The Irish Left Archive have been created for or added to other online archives, please inform us so sources can be credited.
Commentary From The Cedar Lounge Revolution
6th July 2009
Perhaps there should be a sub-section in the Archive of materials by non-Irish political formations referencing Ireland. In the main, as might be expected, such publications are focussed on Northern Ireland and the political responses to it. And this document here is very clearly of that type with a concentration on the events in the North around the time of the Ulster Workers Council strike.
A few words about Reg Birch and the CPB (M-L). This was not as it happens the sister party of the Communist Party of Ireland (M-L). The latter were aligned with the Communist Party of England (M-L), later the Revolutionary Communist Party of Britain (M-L). They were one of Hardial Bains progeny. It's important not to confuse them either with the Communist Party of Great Britain, (M-L), a much more recent creation dating from 2004 which apparently has a number of refugees from Arthur Scargill's Socialist Labour Party (and which we've mentioned previously ). The genesis of the CPB (M-L) was in a split in 1968 led by longtime CPGB member Reg Birch to a Maoist position. With that sort of provenance one might expect it to take lines similar to the CPE (M-L), which indeed it did, being yet another cheerleader of Albania.
Given that it is hardly surprising that the party would take a strong line on the North. However, as will be seen in the text this diverges somewhat from other formations on the further left.
Also unsurprisingly the document, including a forward by Reg Birch, places the UWC strike within a context…
…that taken in Chile by the so-called Lorry Drivers' Strike —lorry owners to a man — against Allende. They are but sheep in wolves' clothing and are troops who in truth lack even the alleged loyalty of the Swiss Guards to the Vatican, for they will surely desert the long-dead Dutchman and that foreign flag of which they prattle on — the union jack — when confronted, as they must be, with the might of the Irish people, their vanguard the Irish working class led by an Irish Communist Party Marxist Leninist, in the true struggle necessary —National Liberation, a Free Ireland. The time is now. I call upon all my friends, old friends, members yet (how sad!) of a foreign revisionist party, the CPGB, to throw away their illusions and their slavishness. Rest on the Irish people who are the best sons of the Irish working class. Take the cream of them, be it in Belfast or Dublin or any other small corner of that beautiful land, and build a true Marxist-Leninist Party for Ireland - emerge! Far be it from me, with the confusion and reaction in England to preach. One task is clear to us all — Independence. You alone can lead the way in your own realm. It is yours. There are many warriors, true sons of Ireland, to join the battle. Out with the invader, be it from Westminster or the Vatican and all their servants resident, willing or unwitting. STRIKE AGAINST BRITISH IMPERIALISM IN IRELAND! ALL OUT TO KICK OUT BRITISH TROOPS!
The document then continues with a potted history of the conflict in the late 1960s. Entertaining to see some of the language used… For example…
The recent campaign began with demands for electoral reform (such as one-man-one vote in local elections) and for an end to discrimination against Catholics in jobs and housings. Its members at first were largely middle class liberals, along with students who added to the demands their own empty calls for socialism [sic]. … New tactics emerged as the movement gained an increasing mass character. Water pipelines were blown up [is this correct, I always assumed that it was loyalists who did that]. More militancy was shown in demonstrations… … —Only a united people will succeed in getting Britain out. Great strides toward unity have been taken in northern Ireland during the past year, but religious divisions remain. They are the secret weapon of British imperialism which it does all in its power to foment. —More and more protestant workers recognise this and realise that the independence of northern Ireland is a myth and a sham. They see the price of privileges over the catholics is a British military dictatorship. … Every political movement of the Irish people was preceded by unrest among the organised working class. … Introduction of the Act entitled 'Prevention of Terrorism (Temporary Provision)' is ostensibly aimed at those perpetrators of the cruel senseless, wanton violence against the civil population here in Britain. But no-one should be fooled by its temporary specious nature. In truth it is a further attack upon civil liberties and the right of freedom here. Neither will it do anything to stop these mad cowboys who are now characterised as the IRA - for which there is no evidence. Though we did believe it was a break-away section, self-styled provisional, who carry out these senseless acts.
Which perhaps offers us an example of function not quite following form, at least as compared with the rhetoric emanating from the CPI (M-L) during the same period.
Worth looking at is the photograph on Page 9 of a CPB (M-L) Rally in Trafalgar Square from 1971.
---