Fightback, Conference Special, March 2011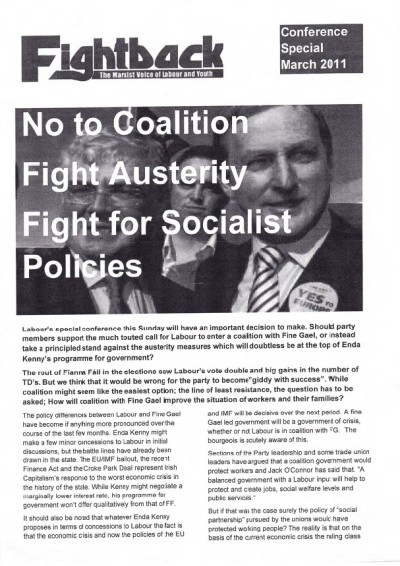 Please note:  The Irish Left Archive is provided as a non-commercial historical resource, open to all, and has reproduced this document as an accessible digital reference. Copyright remains with its original authors. If used on other sites, we would appreciate a link back and reference to The Irish Left Archive, in addition to the original creators. For re-publication, commercial, or other uses, please contact the original owners. If documents provided to The Irish Left Archive have been created for or added to other online archives, please inform us so sources can be credited.
Commentary From The Cedar Lounge Revolution
18th January 2016
Many thanks to IEL for forwarding this to the Left Archive. This is an interesting and unusual document issued by the International Marxist Tendency. The IMT was the group established by Ted Grant and Alan Woods when they split from the Committee for a Workers' International (CWI) and the UK section of the CWI, Militant over the latter's decision to move away from entryism towards the establishment of stand-alone political formations (Socialist Party in Ireland and the Socialist Party (England and Wales)).
This document, issued by the Irish section of the IMT, is a brief two pages directed very clearly at the membership of the Irish Labour Party in advance of the decision to enter government with Fine Gael in 2011. As can be expected the IMT takes a strongly antagonistic stance to that decision.
Labour needs to lead a struggle against austerity both in the Dáil and among the working class. A clear programme would demand no more cuts. Workers shouldn't be made to pay for the bosses crisis…
And it has three core demands.
No coalition with Fine Gael

Fight Austerity

Labour needs a Socialist Programme
The history of the IMT in Ireland is of considerable interest. Did many people stay with it and does it still have a presence? Any contributions to the discussion are very welcome.
---